August-September 2016 Enewsletter
---
Bump It Up for Back to School!
Bump up your bundle or Internet plan to a faster plan, including NATCO's EXTREME 1Gig service, & pay your current rate for the first two months!*
With the region's fastest Internet, students stay connected while the rest of the family enjoys lightning fast surfing, gaming, Hi-Def television and videos.
Upgrade Now & SAVE on NATCO's 1Gig Extreme Bundle
FEATURING:
VOICE - Nationwide Unlimited Voice & Calling Features
TV - High-Def Quality with Over 100 Popular Channels
INTERNET - The Region's Fastest 1Gig Internet
Extreme 1Gig Fiber-To-The-Home (FTTH) is available in all areas with fiber service as part of our Extreme Bundle or as a stand-alone service.
*Limited time offer applies to first 2 months of new contract period. Some restrictions may apply.
---
Smart Cellular Deals!

FREE Data, Super Savings on NEW 4G Phone & FREE Service
Get smart and Get FREE data for the rest of your life!
Subscribe to a new 4G LTE plan or upgrade your existing plan to a 4G Simple Shared Plan and receive data FREE FOR LIFE. On plans up to 6GB, receive 1 extra GB for free. On 12GB and 18GB plans, receive two additional 2GB free each month.
Note: Offer valid on phones financed through NATCO's EXTRA Program or for customers transferring their current devices to a NATCO 4G Simple Shared Plan.
New 4G phone for as little as $4.99 per month
SAVE on your first twelve (12) EXTRA Program device installments. Devices with a retail cost of $599.99 or less will be $4.99 for the first 12 monthly installments and devices that have a retail cost of $600.00 or greater will be $9.99 for the first 12 monthly installments. Now is the perfect time to get the new phone you want at a price you'll love!
Note: This special offer is valid for all eligible EXTRA Device Installment Plans. This promotion can ONLY be combined with the "Free Data for Life" or "3 Months Free Access" promotion, but not both.
3 Months' FREE Service
Sign up for a NEW 4G LTE Simple Shared Plan or UPGRADE to a 4G LTE Simple Shared Plan and receive three month's access line credit on your primary and subsequent subscriber lines.
Note: This promotion CAN be combined with the $4.99/$9.99 EXTRA Device Credit. No other promotions or special offers will apply.
For more information and help switching from your current cellular provider, contact NATCO Customer Service at 800.775.6682 or stop by the main office in Flippin. Our team will help make the transition easy!
---
NATCO is Region's ONLY 1Gig Certified Provider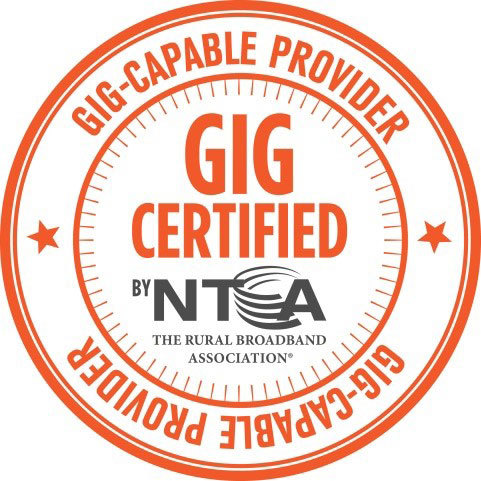 NATCO Communications Named Certified Gig-Capable Provider
by NTCA–The Rural Broadband Association
NATCO Communications was recently recognized by NTCA–The Rural Broadband Association, the premier association representing nearly 900 independent, community-based telecommunications companies that are leading innovation in rural and small-town America, as a Certified Gig-Capable Provider for delivering gigabit broadband speeds and enabling technological innovation in the Bull Shoals and Diamond City communities.
As a Certified Gig-Capable Provider, NATCO joins a national campaign to build awareness and industry recognition of community-based telecom providers that have built communications networks capable of delivering Internet speeds of up to 1 gigabit per second, which is 100 times faster than those currently available in many U.S. households. NATCO also received tools to promote itself as a Gig-Capable Provider in these communities and will be recognized in NTCA media, on the NTCA website, and during association conferences and events.
"I applaud NATCO Communications for its commitment to delivering the Internet's fastest speeds—an accomplishment worthy of much praise considering the unique and challenging circumstances small, community-based telecommunications providers operate under every day in serving some of our country's most rural and remote communities," said NTCA Chief Executive Officer Shirley Bloomfield. "By building a gigabit-capable network, NATCO has not only overcome these challenges, but also shattered conventional benchmarks for broadband speed to enable cutting-edge technologies that drive innovation and promote economic development in their communities, region and nationwide."
To achieve certification, telecommunications companies must show that gigabit technology is currently commercially available within 95% of one or more exchanges within its serving territory and that such service can be provided without new trenching or stringing new aerial facilities. This statement must be confirmed by a letter from an engineering firm or other independent source involved in the company's network planning, deployment or operation.
---
New Ozark Regional Directories Coming Soon!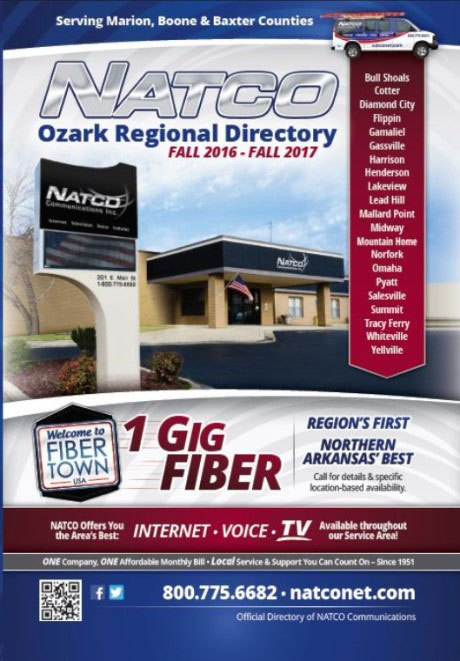 Annual Recycling Project Underway
The new 2016-2017 Ozark Regional Directories will arrive soon! That means it's time for our annual directory recycling project.
For 23 years, NATCO has coordinated the directory recycling program and encourages all customers to drop off their old Ozark Regional Directories (or any old directory) at one of the convenient recycling bin locations in their community.
The recycling bins will be in place through October 10th.
2016 Community Recycling Bin Locations
Bull Shoals: City Hall & Arvest Bank
Diamond City: City Hall
Flippin: Arvest Bank, City Hall & NATCO Front Lobby
Lead Hill: Arvest Bank
Omaha: City Hall
Yellville: Arvest Bank
Mountain Home: Arvest Bank Main Branch and Arvest Walmart Branch.
Pyatt Post Office
Customers are asked to respect the property of the participating businesses and offices and place the old phone directories only in the bins marked with "Recycle" symbol and NATCO company logo. For more information, contact NATCO customer service in Flippin at 453.8800 or toll free 800.775.6682.
---
Annual Coloring & Essay Contests Coming Soon to Area Schools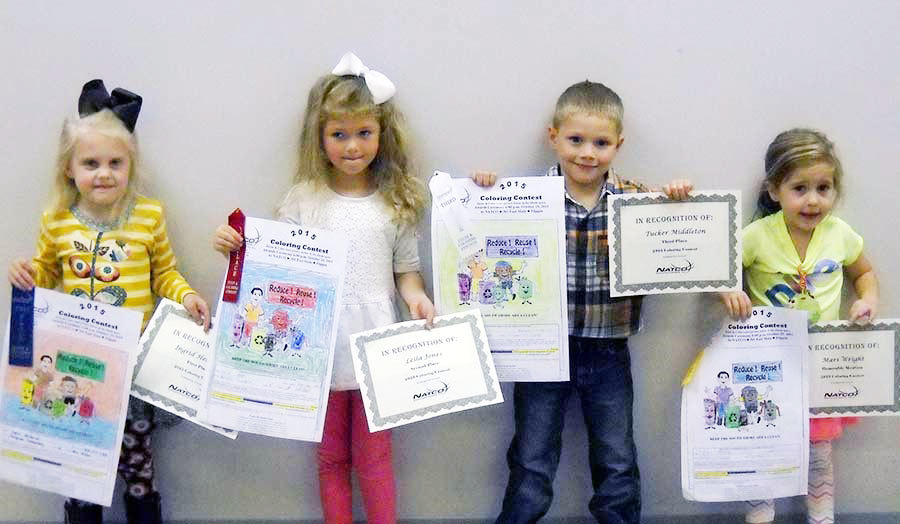 Each year, students in kindergarten through eighth grade from Flippin, Yellville-Summit, Bruno-Pyatt, Lead Hill, Omaha, and Bergman are invited to participate in the coloring and essay contests.
A reception will be held for contest winners during November at the NATCO Communications main office in Flippin. Students will enjoy a fun-filled evening of prizes and refreshments.
The annual coloring and essay contest is one of our favorite events held at NATCO. We look forward to receiving outstanding entries again this year.
For more information on the contest, please call 800.775.6682.
---
NATCO Welcomes Three New Staff Members
NATCO Communications is pleased to announce the addition of three new staff members.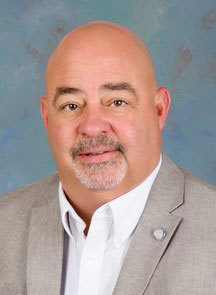 Tim McEuen
External Relations
Tim McEuen – External Relations
Tim McEuen has joined NATCO Communications, Inc. (NATCO) where his responsibility will be External Relations for the company. In this role, he will connect with existing and new business and residential customers to provide telecommunications solutions and services utilizing NATCO's state-of-the-art fiber network. McEuen, who is a graduate of Forrest City High School and an Arkansas Fire Fighter and Medical First Responder, has worked in the telecommunications industry for over 35 years providing leadership in sales, customer service, project management and technical support.
Prior to joining NATCO, McEuen developed sales teams and strategies, and he was responsible for structuring the build out of a fiber network to new customers in the Jonesboro area. He brings experience in working with businesses for total managed services solutions and also specializes in working with carriers for Ethernet services, wireless back-haul, and dedicated Internet access.
McEuen has vacationed in the Ozarks in the past, so was excited to have the opportunity to make the area home. "NATCO has made a tremendous investment to allow this area to have access to the same services that people in major cities like Dallas have access to. That is something to be very proud of," McEuen said. He and his wife have two children and six grandchildren. In his leisure time, he enjoys music and fishing.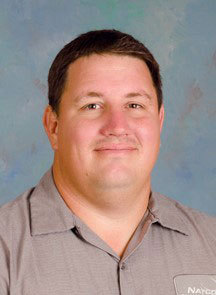 Thomas Richey
Construction Lineman
Thomas Richey – Construction Lineman
Thomas Richey has joined the staff of NATCO Communications as a Construction Lineman. His primary duties at NATCO will be underground and aerial construction. A longtime resident of the area, Richey has 18 years of experience in the utility industry. In his free time, he enjoys spending time with his family which is active in FFA and youth wrestling.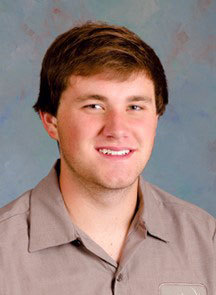 Dustin Small
Construction Lineman
Dustin Small – Construction Lineman
Dustin Small has joined NATCO Communications, Inc. (NATCO), as a Construction Crewmember. His primary responsibilities at NATCO will include underground and aerial construction.
A longtime resident of the area, Small graduated from Mountain Home High School and received his High Voltage Lineman Technology certificate from Arkansas State University-Newport. In his leisure time, he enjoys hunting, fishing, and sports.
---
---
What Can 1Gig FTTH Do For You?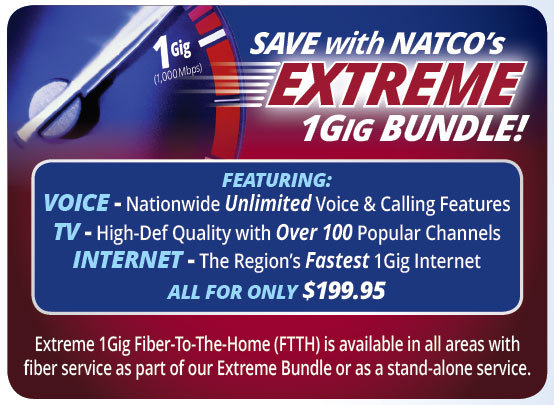 Fiber-to-The-Home (FTTH) service, delivering information at the rate of 1Gig/Gbps (gigabit per second), lets you experience the world at the speed of light – literally.
Using fiber optic cable to transmit light signals, NATCO's FTTH delivers broadband services such as high-def quality television and super-high speed Internet at a speed unmatched in the region.
With Extreme FTTH service from NATCO – the region's ONLY Certified 1Gig provider - you can:
Connect multiple users and multiple devices at one time without bogging down your service
Upload & download large files (music, videos, movies, presentations, etc.) in a fraction of the time
Play online games without lagging or the screen freezing
Video chat with friends and family without buffering or loss of quality
Back up your files, videos, photos and more to cloud storage quickly and easily
NATCO's Extreme 1Gig FTTH service is available separately or as part of a money-saving bundle:
For more information on FTTH service and for available locations, please phone 800.775.6682.
---
Flippin FTTH Project Update
NATCO Communications, Inc., (NATCO) is continuing expansion of their Fiber-to-the-Home (FTTH) network in parts of the city of Flippin. FTTH technology provides unlimited bandwidth and flexibility to deliver advanced telecommunications services at the highest speeds available. For businesses and residents, this means faster access to data and applications stored in the cloud, no delays or buffering of high definition video, and unlimited global business and educational opportunities in rural locations. FTTH is also shown to increase home values and attract businesses which rely on powerful network connections.
The project includes four phases within Flippin. Installation of Phase I included 9 miles of fiber in the Wildcat Shoals area serving around 127 homes and was completed in December 2015. Construction of Phase II is currently underway going east and west along the old Highway 62/412 area and will serve 177 local homes and businesses with 6 miles of fiber. This phase should be complete in December 2016. Phase III will begin the first quarter of 2017 and will involve 17 miles of fiber serving 566 customers. Phase IV is scheduled to start the third quarter of 2017 with an additional 3.5 miles of fiber and 126 customers. All phases should be complete in 2017.
"We are excited to expand these advanced services in our home town. Building this infrastructure in Flippin creates opportunities for the local customers we serve and has the potential to attract new industry and technology-driven businesses to our area," stated Travis Sullivan, Plant Manager with the company. "We are working closely with city officials to locate underground water lines and infrastructure in order to streamline the construction process and keep any disruptions to a minimum."
During planning and construction of the project, NATCO and its contractors notify the Arkansas One Call service to ensure the protection of the public and prevention of damage resulting from accidents involving underground facilities. The service is the state-wide "Call Before You Dig" center which allows excavators of all types to notify multiple utilities of their intent to excavate with a single submission of a locate request.
For more information on the Flippin fiber construction project, or to check for FTTH service availability at your location, please call NATCO at 800.775.6682.
---
Switch to NATCO Television!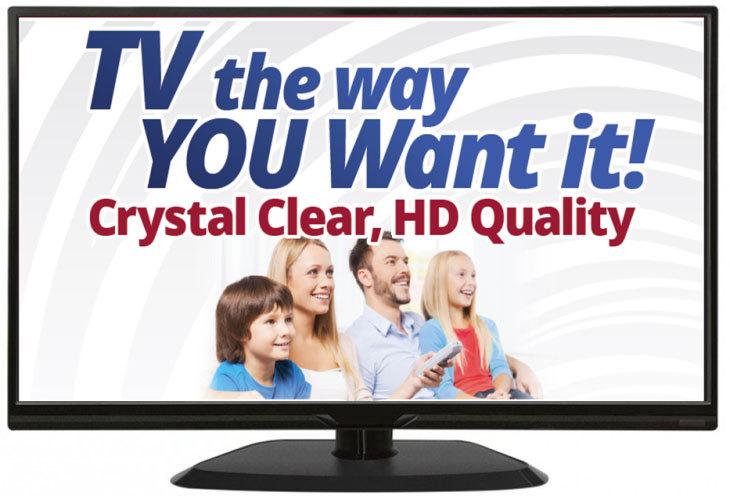 With NATCO Television, you're in control. Choose the NATCO television package that's right for you and your budget.
Sign up now for NATCO TV service and get a FREE Roku media player and FREE installation – just mention promo code: TVNow1.
NATCO offers HD quality television as a stand-alone service, or choose one of our affordable bundles featuring television, voice and Internet service.
For those who like a little TV:
NATCO TV with Locals - includes the basics + allows you to access free online and subscription services via a Roku streaming media player.
For those who like a LOT of TV:
100+ Channel Package – includes over 100 channels of the most popular television programming, delivered via fiber optic broadband.*
Ready to Watch?
For more information on NATCO television options or to sign up for service, please contact NATCO Customer Service at 1.800.775.6682.
*Call for availability. Limited time special offer. Must mention promo code TVNow1 to receive free Roku and installation.
---
Wi-Fi Now Available at Bull Shoals Dam Site Park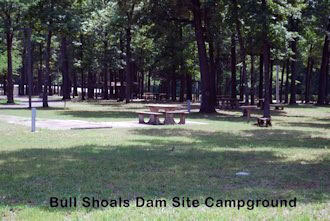 Photo Courtesy from City of Bull Shoals
There are big changes happening at Bull Shoals Dam Site Park. Once closed by the U.S. Army Corp of Engineers, the park now has new life, filled with visitors and area residents.
Earlier this year, the city of Bull Shoals leased the grounds and began efforts, with the assistance of many volunteers, to clean up the park and make it an inviting place for campers.
As part of the upgrades offered at the park, NATCO provided access and Wi-Fi equipment to deliver Internet service for park guests. The park charges campers a nominal daily fee for Wi-Fi access. However, coupons are available for FREE access from the park's resident host. Contact the park host for eligibility guidelines.
The Bull Shoals Dam Site Park is located just off Hwy. 178 on the west side of the Bull Shoals Dam. For more information on the park or to reserve a camp site please contact Chris or Cindy Cloutier, resident park hosts, at (870) 405-9619.
Bull Shoals Dam Site Park
34 Camp Sites: all sites have water and electric
Inside island (30-amp service) $20 per night
Outside island (50-amp service) $25 per night
Wi-Fi: 1 MB $3 per day; 6 MB $6 per day
Firewood: 6 sticks for $5
---
Career Opportunities - Join Our Team!
Installation and Repair Technician
Telecommunications Installation and Repair Technician needed in Flippin, AR. Must be able to work with the public and maintain the confidentiality and accuracy of records. The ideal candidate will have I&R experience, including experience with ADSL, Ethernet Services, Fiber / Fiber Splicing and other digital services. This job will also require installing and repairing outside plant facilities, both buried and aerial. Strong computer/internet skills a plus. Please forward resumes to Human Resources, PO Box 209, Flippin, AR 72634. An Equal Opportunity Employer (EOE).
OSP/Design / Communications Engineer
Qualified applicant must have an advanced level of outside plant design knowledge and be capable of designing outside plant work orders. Must have a knowledge of telephone industry standards, accessing, reading and interpreting mechanized assignment records, PC applications, and OSP record and/or computer aided drafting systems. Knowledge is also required in understanding infrastructure plans (highway, sewer, bridge, etc.) and survey information for the elimination and prevention of conflicts with existing and proposed underground, site obstacles, and for proper installation location within easements and public right of way. This individual must be knowledgeable with all municipal and government requirements of work. BS degree in Electrical Engineering preferred but a combination of education and telecommunication experience in engineering will be considered. Please send resumes to Human Resources, Northern Arkansas Telephone Company, PO Box 209, Flippin AR 72634. An Equal Opportunity Employer (EOE).
Customer Sales Representative
The ideal candidate will possess outstanding communication skills, including articulation, grammar and persuasion, customer service etiquette, and interpersonal skills. This position will generate revenues through telemarketing, cold calling, prospecting and networking; maintain sales goals and meet quotas. Must have proven outbound calling experience. This position will be discussing telephone, Internet, television, and more. Must be a positive, outgoing, results-oriented team player with the ability to handle stressful situations. Minimum base rate plus commission and work from home a possibility. Please send resumes to Human Resources, PO Box 209 Flippin, Arkansas 72634. Equal Opportunity Employer (EOE).
Computer Specialist
Must have intermediate/advanced understanding of personal computers and basic business software. Must have knowledge of wide area networks (WANS) and local area networks (LANS) including Ethernet-based transport. Experience in a Cisco and/or Linux environment a plus. Must have the ability to install, configure, maintain and troubleshoot computer software. Must be able to install, configure, maintain and troubleshoot Server installations in Linux and Windows environments. Must have a familiarity with telecommunications technologies such as T1/T3/xDSL/microwave and fiber optic access. Must be comfortable interacting with customers and fellow employees about computer and Internet repair techniques over the phone or in person. Please forward resumes to Human Resources, PO Box 209, Flippin, AR 72634. An Equal Opportunity Employer (EOE).
---
Connect with NATCO on Social Media
By connecting with NATCO on Social Media, you'll be among the first to learn about new services and special offers from NATCO Communications as well as the latest tech news, community events and company announcements.
Check us out on Facebook: facebook.com/NATCONet and Twitter: twitter.com/NATCOnet.
---
We're Here for You!
Whether you want to know more about a NATCO service, need an explanation about your bill, or need to report a service outage, we're here to help!
How to Reach Us...
Customer Service & Business Office
In Flippin: 453.8800
Outside Flippin: 1.800.775.6682
Office Hours: 8am - 5pm Monday through Friday
Repair Service
In Flippin: 453.8821
Outside Flippin: 1.800.775.6682
Internet Technical Support
All Areas 24/7: 1.888.276.8059
Call NATCO Customer Service at 453.8800 or toll free 800.775.6682 for information on scheduling new service or repair on Saturday or after normal business hours.
---