February 2017 Enewsletter
---
Don't Get Bogged Down!
Get the speed you need for all your devices with NATCO's Broadband Internet service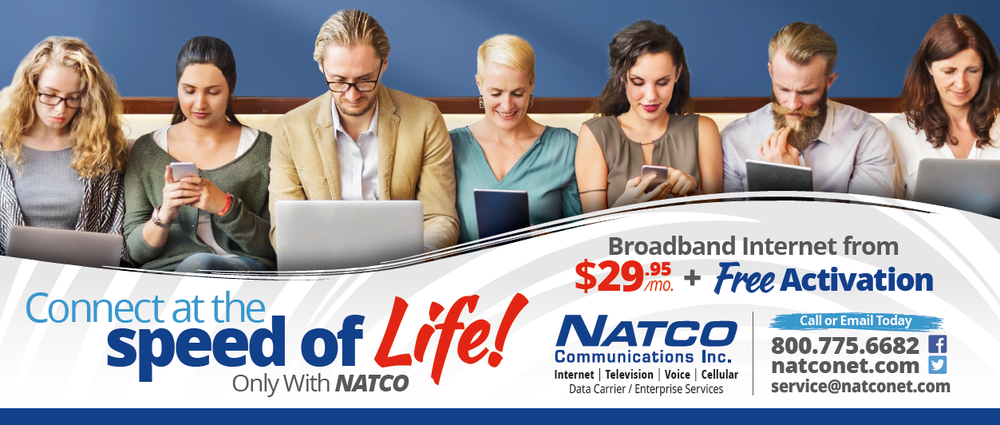 As more and more devices are added to a household, it's easy to see how Internet resources can quickly be zapped.
With NATCO's Broadband Internet Service, choose a plan that will adequately deliver the speed you need to keep streaming, surfing, posting, watching and downloading without any buffering or lag time. NATCO delivers speeds of up to 1Gig, which is powerful enough to operate multiple devices using the Internet – all at the same time.
NATCO's Internet plans start at just $29.95 per month. Call today and let us help you determine the most affordable plan to deliver the speed you need.
Sign up now and SAVE BIG on broadband or fiber (FTTH) Internet plans and, for a limited time, receive FREE ACTIVATION on any new or upgraded Internet package. Call 800.775.6682 today!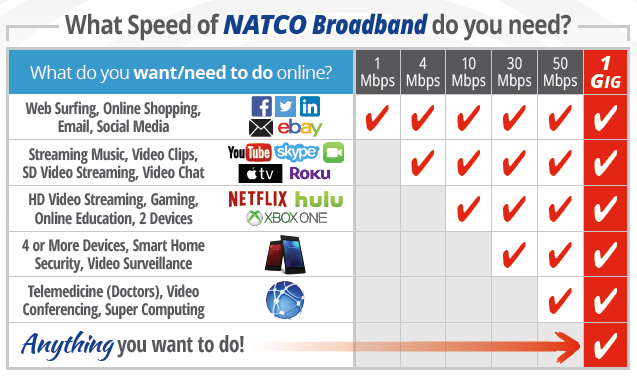 ---
New NATCO Television Packages
More Options – More Channels – More Flexibility
NATCO is pleased to introduce two new packages to our growing television offerings. We now have four packages to provide additional viewing options for customers.
NATCO TV Flex Pack, works with a Roku streaming device and delivers high definition live broadcast television from Springfield, MO; Harrison, AR; and Mountain Home, AR; delivered to your television over your Fiber connection (20 channels). Since this TV service is accessed with a Roku streaming player, you also have access to hundreds of free online channels and subscription services all through this one simple device. This is our intro TV package and is available at $99 per month (includes 50/25 Mbps Internet, unlimited voice – locals & long distance, and a host of calling features).
View Flex Pack Channel lineup
Essentials Package includes 28 channels of our most popular programming including local stations in HD, weather, movies and classics. This package is available at $104.95 (includes 50/25 Mbps Internet, unlimited voice – locals & long distance, and a host of calling features). View Essentials Package Channel lineup
Favorites Package includes 109 channels of our most popular programming including local stations in HD, weather, movies, news (FOX, MSNBC, CNN, HLN), Sports, HGTV, Food, MTV, Discovery, & More! This package is available at $139.95 (includes 50/25 Mbps Internet, unlimited voice – locals & long distance, and a host of calling features). View Favorites Package Channel lineup
Upgrade to the Premier Package which includes 128 channels of our most popular programming including local stations in HD, weather, movies, news (FOX, MSNBC, CNN, HLN), Sports, HGTV, Food, Disney, Discovery, Cooking, Outdoor Channel, Turner Classic Movies, & Much More! This package is available for an additional $20 over the Favorites Package and includes 50/25 Mbps Internet, unlimited voice – locals & long distance, and a host of calling features. View Premier Package Channel lineup
Sign up today and receive FREE Installation for up to two TVs, FREE Activation and FREE Equipment lease for two TVs for 6 months. Call today or email for details! 800.775.6682
---
Community Commitment
Making a Difference

Since 1951, NATCO has continually invested in improving and advancing technology in the communities we serve. Our commitment to the area runs much deeper than buried fiber cable.
Each year, NATCO chooses to invest in our local communities by supporting the educational efforts of students through scholarships, programs and grants. We also support community projects that promote economic growth, encourage environmental awareness and improve the quality of life for our friends and neighbors right here in north-central Arkansas.
NATCO is committed to the local communities we serve. In conjunction with our charitable foundation, we've provided over $800,000 in local support, including:
Annual scholarships to students in every high school in NATCO's service area
Arkansas State University Mountain Home Annual Scholarship Endowment
North Arkansas College Annual Scholarship Endowment
Marion County Youth Leadership Annual Tech Day
Audubon Society Classroom Kits to promote environmental awareness in area elementary schools
Annual technology-themed Creative Arts Contest for kindergarten through eighth grade students
Annual Telephone Directory Recycling Project
Grant workshops for community organizations and clubs
Annual fundraisers to support cancer research and survivors of domestic violence
For more information on NATCO's local impact, visit natconet.com or Facebook.com/NATCONet.
---
Tech Day at NATCO
Marion County Students Learn About Communications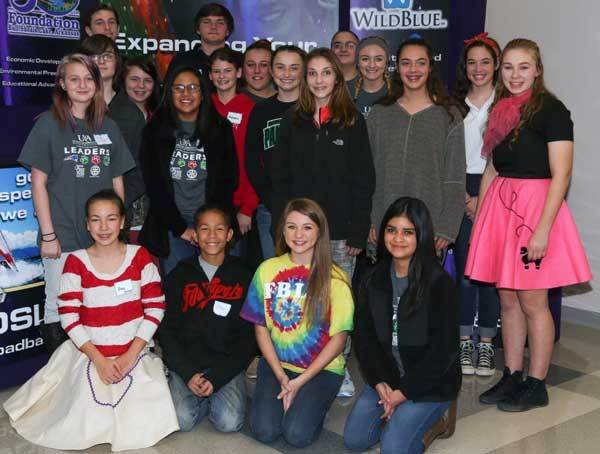 NATCO recently enjoyed hosting nineteen ninth grade students from Marion County schools to learn about the telecommunications industry at NATCO's office in Flippin. The event, held December 7th, was "Tech Day" for the students on this year's South Shore - Marion County Youth Leadership Team. The students and advisors attending were from Yellville-Summit, Flippin and Bruno-Pyatt schools.
The team was welcomed with breakfast and an introduction to the company, then divided into groups to learn about business functions by departments. Each department had interactive activities for students to participate in which ranged from Engineering, where students learned about and experimented drawing with CAD tools, to the IT Department, where students learned a bit about technology innovations and trouble-shooting. Other displays included NATCO representatives working with students on activities in Accounting, Customer Service and Network Services. Students also took a tour of the Flippin office and Central Office where NATCO team members answered questions.
After lunch provided by NATCO, students were challenged to write and perform in skits on "Tech" topics. The dynamic group met the challenge and had a great time. Amazon Gift Cards and a set of wireless Bluetooth headphones were awarded as prizes.
NATCO's nonprofit arm, South Shore Foundation, is a sponsor of the Marion County Youth Leadership Development Program, which is designed to identify and strengthen leadership skills in youth and to build their self-confidence as they learn to serve their schools and communities. It was founded on the premise that the youth of today will serve as the leaders of tomorrow.
Any eighth-grade student from Marion County interested in participating on next school year's South-Shore Marion County Youth Leadership Team may obtain an application from their school counselor, the Marion County Extension Office (870) 449-6349.
---
Lifeline Program Extends to Broadband Internet
Low Income Assistance for Voice Lifeline or Broadband Lifeline
See if you QUALIFY
Lifeline assistance lowers the cost of basic monthly local voice or broadband service. Eligible consumers will receive a discount of $9.25 off their normal monthly local phone service or broadband Internet service. Lifeline service is limited to one line/service per household at the customer's primary residence.
How do I know whether I am eligible?
Participation in Lifeline Support depends on eligibility. Individuals are eligible if he or she participates (or the household) in one of the following programs:
Federal Public Housing Assistance (FPHA)
Food Stamps/SNAP
Medicaid
Supplemental Security Income (SSI)
Veterans Pension and Survivors Benefit
In addition, a consumer may be eligible if his or her household income is at or below 135 percent of the federal poverty guideline.
2016 estimated income requirements for a household at or below 135 percent of the federal poverty guidelines are as shown.
How do I apply for Lifeline?
Call, visit or write for an application:
Northern Arkansas Telephone Co, Inc.
301 E. Main St
PO Box 209
Flippin, AR 72634
1-800-775-6682
Fill out an application form and mail to:
Lifeline Administrator
PO Box 685
Parisppany, NJ 07054-0685

For more information about Lifeline, visit: https://www.natconet.com/lifeline
---
Diamond City Community Center Donation
NATCO in the Neighborhood
NATCO recently donated television service delivered over NATCO's fiber connection to the Diamond City Community Center. A hub of activity, the center is available for use by area residents, clubs and organizations.

For more information about the Diamond City Community Center, call 870.422.2088 or 870.422.7212.

NATCO's Tim McEuen is pictured during a recent visit to Diamond City – one of our FiberTown Communities.
---
NEW NATCO Business Phone Systems
For Wherever Your Business Takes You

Now you can have it all – with the versatile Vertical Summit™ Unified Communications (UC) platform.

More than a simple phone system, the Summit gives you cost-effective options that add up to real-time communications and bottom-line business benefits with the ability to easily – and affordably – migrate from a traditional analog phone system to an Internet based phone system for true mobility and more.

Simple to set up and administer, the Summit's optimized architecture gives you all the standard features you need while supporting more advanced unified communications and mobility applications, so you can communicate and collaborate seamlessly wherever your business takes you.
Vertical Summit System Advantages:
Affordable access to mobility and advanced unified communications
Ideally suited for 5 – 140 users
Seamless integration with iOS and Android mobile devices
Expandable systems with flexible phone options
Easy set up and use
Convenient financing options

Seamless, single-number connectivity to customers, co-workers and features from your PC or smartphone, so you can:
Make, receive and transfer calls from anywhere with one touch
Quickly handle calls with at-a-glance
Access directories, call logs, paging and other system features with the tap of a finger
Automatically integrate and synchronize private and shared directories
Send and receive secure IM, text and broadcast messages
Easily set up and manage videoconferences with up to six people
Share applications, white boards and desktops in real time
Record calls with a single click
Conduct 3-way conference calling
NATCO is an authorized Vertical Communications partner and offers business phone systems along with high-speed broadband Internet services to provide a convenient, unified communication solution.
For more information on the features, plans and financing options available, call Tim at 870-453-9237.
---
Status Update on Fiber Installation
Expanded Services Now Available for Customers
Many more customers in Flippin now have access to FTTH (Fiber-To-The-Home) service with the completion of another phase of fiber construction. FTTH delivers speeds of up to 1Gig and allows customers to experience high-def video and the fastest Internet speeds in the region.
Fiber construction was also recently completed in the town of Peel. Residences and businesses in the resort town now have access to the high-speed broadband services available in other areas of the county.
---
---
Career Opportunities
Join the NATCO Team
Job Title: Business Manager
Job Status: Full-Time
Job Summary:
NATCO Communications, Inc., a broadband and telecommunications company serving a 658-sq. mile rural area of northern Arkansas and southern Missouri, seeks an energetic, intelligent, and inspiring manager to lead and oversee the business operations of our progressive company. The ideal candidate will have a fearless approach to embracing new technology (i.e., Internet, voice, tv, data services, etc.), be well-versed in all matters of business (i.e., customer service and relations management, sales and business development, accounting, facility operations and human resources) and be comfortable in a customer-centric, progressive and diverse work environment. Change comes quickly to our technology driven company so the ideal candidate will embrace change while helping our team navigate new territory related to new services and products. Experience in telecommunications industry in a competitive rural market is preferred but not required. Oversight and implementation of government regulatory policy is required. Must be a proven, competent leader able to guide and inspire our team and demonstrate excellent organizational and leadership skills. This position reports directly to the company President and is responsible for analyzing and interpreting external and internal data, as well as development of reports and strategic initiatives. Candidates should possess a thorough understanding of diverse business processes; excellent knowledge of computer systems and technology; understanding of benefit-need sales approach; marketing and public relations. Candidates must have a minimum of five years' experience in a management (direct supervisory role) with BS/BA in Business Management or relevant field; MS/MA is preferred. Excellent benefits package is included. To learn more about our company visit: www.NATCOnet.com
Please forward your resume to Human Resources, PO Box 209, Flippin, AR 72634. An Equal Opportunity Employer (EOE). A thorough reference check along with an in-depth personality and management practice assessment will be part of the selection process.
Job Title: Installation and Repair Technician
Job Status: Full-Time or Part Time
Job Summary:
Telecommunications Installation and Repair Technician needed in Flippin, AR. Must be able to work with the public and maintain the confidentiality and accuracy of records. The ideal candidate will have I&R experience, including experience with ADSL, Ethernet Services, Fiber / Fiber Splicing and other digital services. This job will also require installing and repairing outside plant facilities, both buried and aerial. Strong computer/Internet skills a plus. Please forward resumes to Human Resources, PO Box 209, Flippin, AR 72634. An Equal Opportunity Employer (EOE).
Job Title: Customer Sales Representative
Job Status: Full-Time or Part Time
Job Summary:
The ideal candidate will possess outstanding communication skills, including articulation, grammar and persuasion, customer service etiquette, and interpersonal skills. This position will generate revenues through telemarketing, cold calling, prospecting and networking; maintain sales goals and meet quotas. Must have proven outbound calling experience. This position will be discussing telephone, Internet, television, and more. Must be a positive, outgoing, results-oriented team player with the ability to handle stressful situations. Minimum base rate plus commission and work from home a possibility. Please send resumes to Human Resources, PO Box 209, Flippin, AR 72634. Equal Opportunity Employer (EOE).
---
Let's Get Social
Connect with Us on Facebook, Twitter & YouTube
---
AN IMPORTANT ANNOUNCEMENT FOR ONLINE BILL PAYMENT USERS
Introducing SmartHub!
SmartHub is a new addition to our progressive line of services that we are excited to offer our friends and neighbors. Responding to the increased demand for a secure app and website, SmartHub provides an integrated solution – allowing its users a secure portal to make payments and report service issues.
SmartHub serves as an interface with our new billing system. We take great care to comply with all payment card industry compliance laws which protect your credit card information. That means that we cannot simply extract and move existing credit card information to the new billing system. Therefore, if you previously set up automatic credit card payments, you will need to re-enter your credit card information into our new system. This can be done in a few easy steps that take less than 3 minutes!
To complete your registration, please have the following information ready:
The account holder's last name
Your NATCO account number
A valid email address
Next, on Monday, March 6th, access SmartHub by downloading the app, available in iOS or Android, or visit our website, www.natconet.com, click on Account Access at the top of the page and then select Pay Online. Register in less than 3 minutes and you are now ready to conveniently and securely manage your NATCO account and services 24/7, 365 days a year.
We know you'll love this new account and payment solution and we are here to help if you need assistance re-registering for automatic bill payment.
If you have any issues, please contact Customer Service in Flippin at 870-453-8800 or toll free at 800-775-6682. Remember, SmartHub will be available beginning Monday, March 6th.
Psst! Additional features will be added to SmartHub this Spring/Summer 2017!
---