April 2017 Enewsletter
---
New SmartHub Makes It
Easy!
Connect with us the way you want, when you want

SmartHub is a new addition to our progressive line of services and provides users a secure portal to make payments, manage accounts, and report service issues. SmartHub serves as an interface with our new billing system for online payments and replaces the previous payment portal.
Please note: Users of NATCO's previous online bill pay system will need to register for the new SmartHub Portal as a new user.
Sign up in a few easy steps - takes less than 3 minutes!
Go to natco.smarthub.coop or visit natconet.com and select the Account Access tab and Pay Online from the sub-menu to get started.
What You'll Need to Register for SmartHub:




Billing account number
Last name or business name of the account holder
A valid email address
Two of the following:

Last 4 Digits of SSN or Federal Tax ID
Mailing zip code
Most recent bill amount
Birthdate (MMDD)
SmartHub app is also available for iOS and Android from the app store.
If you need assistance with sign up, we're here to help! Call us toll free: 800.775.6682
When you call, we'll ask you to update/confirm your contact information for the new system.
---
SAVE the DATE:
NATCO Open House & Hands-On
Technology
Showcase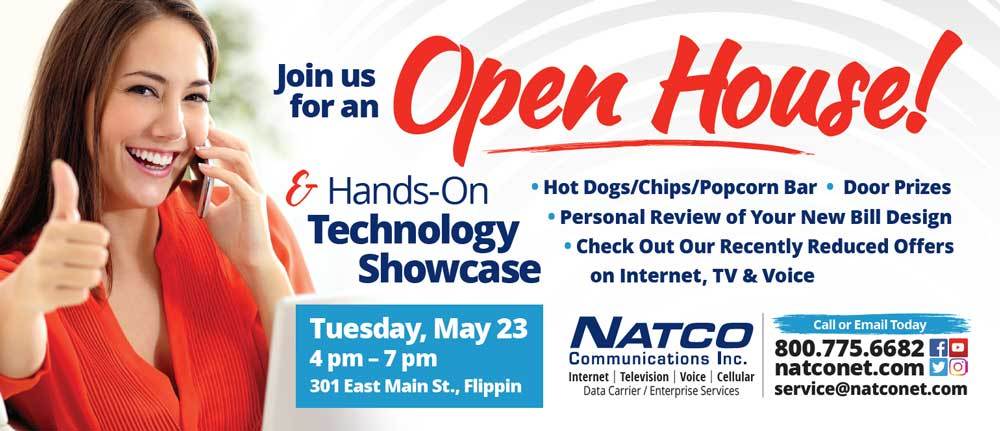 SmartHub – Get a Personal Introduction to your Account's New Intelligent Interface
Learn How to Optimize Your Internet Speed
Modems & Routers – Identify & Troubleshoot Commonly Reported Issues
Refer-A-Friend – You Can Earn up to a $50 Credit Per Referral!
Save with NATCO – Bring Your Cable or Satellite Bill & We'll Show You How!
Experience Streaming TV
Internet TV & Roku Demystified
Experience the Power of 1Gig Internet
Watch NATCO TV in High-Def
---
NATCO's Customer Call Back Program
To help us improve the service we provide to you, NATCO recently implemented a call back program.

When you sign up for a new service with NATCO, or if you call with a service issue, you may receive a call within a few days asking how you like the service and your overall experience.
The calls originate from a third-party, so please give the caller your honest feedback. Let us know if we've met your expectations or if there are areas where we can improve.
We appreciate your business and want to provide you with the best possible service. The call back program is a great way for us to stay connected to what matters most - YOU - our customers.
If you have any questions about the call back program or would like to provide additional feedback regarding your experience, please give us a call at 800.775.6682 or email service@natconet.com
---
NATCO TV –
More
Options,
More
Channels,
More
Savings
FREE Installation, FREE Activation, FREE Equipment Lease – Limited Time Offer
NATCO Television has options for everyone. From those who just want the basic news and weather to those who stay glued to the tube for hours each day, NATCO television has the right package for you.
NATCO's television bundles include your selected TV Package, 50Mbps Internet and Unlimited Voice (local, long distance and calling features). So you get TV, super-fast FTTH Internet and all the crystal clear phone calls you want for one great low price.
If you're not a big TV watcher, but still want the local news and weather our Flex Pack is perfect for you!
NATCO TV Flex Pack, works with a Roku streaming device and delivers high definition live broadcast television from Springfield, MO; Harrison, AR; and Mountain Home, AR; delivered to your television over your Fiber connection (20 channels). Since this TV service is accessed with a Roku streaming player, you also have access to hundreds of free online channels and subscription services all through this one simple device.
This is our intro TV package and is available at $99 per month in a bundle which includes 50/25 Mbps Internet, unlimited voice – locals & long distance, and a host of calling features. View Flex Pack Channel lineup
Essentials Package includes 28 channels of our most popular programming including local stations in HD, weather, movies and classics. This package is available at $104.95 in a bundle which includes 50/25 Mbps Internet, unlimited voice – locals & long distance, and a host of calling features. View Essentials Package Channel lineup
Favorites Package includes 109 channels of our most popular programming including local stations in HD, weather, movies, news (FOX, MSNBC, CNN, HLN), Sports, HGTV, Food, MTV, Discovery, & More! This package is available at $139.95 and also includes 50/25 Mbps Internet, unlimited voice – locals & long distance, and a host of calling features. View Favorites Package Channel lineup
Upgrade to the Premier Package which includes 128 channels of our most popular programming including local stations in HD, weather, movies, news (FOX, MSNBC, CNN, HLN), Sports, HGTV, Food, Disney, Discovery, Cooking, Outdoor Channel, Turner Classic Movies, & Much More! This package is available at $159.95 per month and includes 50/25 Mbps Internet, unlimited voice – locals & long distance, and a host of calling features. View Premier Package Channel lineup
Sign up today and receive FREE Installation for up to two TVs, FREE Activation and FREE Equipment lease for two TVs for 6 months. Call today 800.775.6682 or email service@natconet.com for details.
---
Refer A
Friend
and Get up to $50
Share Our Gig!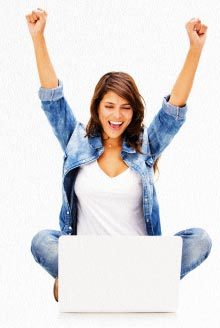 Refer a Friend and get up to
$50
Internet | Television | Voice
Tell your friends about your NATCO service and experience. For each friend who signs up for new services, you will receive up to $50! Refer as many friends as you like; there is no limit on referrals!
Refer your friends to NATCO today!
When your friend contacts NATCO to sign up, please be sure and have them mention your name (exactly as it is listed on your NATCO account) in order for us to apply your credit.
An eligible friend must be a new customer and sign up for Internet, landline phone or TV service for you to receive a bill credit of $25 per service (for up to two services per referral). If your eligible friend signs up for two services, you'll receive a $50 bill credit.
Services not available in all areas.
Please call for details: 800.775.6682 or email: service@natconet.com
---
Cellular customers, subscribe to a new 4G LTE plan or upgrade your existing plan to a 4G Simple Shared Plan and receive FREE DATA FOR LIFE. On plans up to 6GB, receive 1 extra GB for free. On 12GB and 18GB plans, receive an additional 2GB free each month.

For more information and help switching from your current cellular provider, contact NATCO Customer Service at 800.775.6682 or stop by the main office in Flippin. Our team will help make the transition easy!
---
Spring
Clean Up
- Arkansas One Call 811
Can You Dig It? Call Before You Dig!
Before digging, drilling, or doing any type of excavation this spring, simply call Arkansas One Call at 1-800-482-8998 or 811 and speak with a customer service representative. Arkansas One Call (AOC) is the state-wide call before you dig center. Arkansas One Call is available around the clock (24/7) to help ensure public safety and damage prevention.
You can also enter a locate request online at www.arkonecall.com. After receiving your request, AOC will dispatch someone to your site to mark all buried utilities.
Remember, YOU are responsible for damages incurred if you fail to contact Arkansas One Call before you dig or if you disregard designated marked areas.
---
---
Employees honored for years of service
NATCO recently honored several long-term employees for their dedicated years of service during the company's annual recognition event.
Staff members honored for their years of service include David Carson, 15 years; Kirby Davis, 15 years; Monica Principato, 15 years; Misty Ring, 10 years; Wanda Humphries, 10 years; Vicki Allen, 5 years; Bill Basinger, 5 years; and Robert Belyea, 5 years.
"NATCO is proud to recognize our staff and their service milestones. We celebrate their lasting commitment to our company and to the neighbors they serve each day. We believe this commitment exemplifies our culture as a locally-owned, independent company with strong community ties. We are proud to honor these NATCO staff members who have, over the course of their employment, embraced the industry's changing technology and responded daily to the needs of our customers," stated Steven Sanders, Jr., NATCO President & General Manager.
---
Business Manager Steve Smith
Retires
from NATCO
NATCO announces the retirement of the company's long-time Business Manager, Steve Smith after a 40-year career in the telecommunications industry.
Smith began his career in 1975 with civil engineering firm C.H. Guernsey & Co. of Oklahoma City, Oklahoma. His experience as an inspector and resident engineer with the firm prepared him to enter the telecommunications industry as an outside plant engineer manager for Century Telephone, Inc.
From 1981 through 1983, Smith was responsible for eleven telephone exchanges and 15,000 access lines for Century Telephone. In 1983, Smith was tapped for a position at the company's corporate headquarters in Monroe, Louisiana, where he served as the REA Coordinator/Contract Administrator, handling Century's USDA Rural Utilities Service (RUS) loan activity for seven states.
In 1990, Smith brought his experience in strategic planning and operations to Mountain Home, Arkansas, as the Division Manager of CenturyTel, Inc. In this capacity, Smith was responsible for daily management of internal and external operations for the company and its four subsidiaries including supervision of over 70 employees in 44 exchanges, totaling over 70,000 access lines in north-central and northeast Arkansas.
After a long, successful career with Century, Smith joined the NATCO Communications team in 2002 as the company's Business Manager. Smith managed and supervised administrative services including customer service, accounting, sales, marketing, public relations, regulatory and legal, and facility maintenance. His duties also included direct governmental and legislative relation activities with federal and state agencies and commissions.
"Steve's contribution to NATCO has been immeasurable. I relied daily on his experience and insight to guide our team and our decisions as a company. His management experience, as well as his thorough knowledge of legal and regulatory issues, positioned our company to expand our broadband infrastructure and introduce Fiber-To-The-Home (FTTH) services to homes and businesses in our service area. We appreciate Steve's many years of service and wish him well in retirement," stated Steven Sanders, Jr., President and General Manager of NATCO Communications, Inc.
---
IMPORTANT
Notice:
Phishing
Don't Be Tricked!
What is phishing?
Phishing scams are emails that are sent to you by impostors aimed at tricking you into giving out your personal information, such as passwords, banking information, or social security numbers. Phishing emails often impersonate reputable sources, such as Amazon, but they are actually sent by scammers trying to get your confidential information.
How can I tell if an email is a phishing scam?
Several telling characteristics may indicate phishing scams. Phishing attempts will often contain grammatical or mechanical mistakes. They might also be impersonal and use phrases such as "Dear Mr. or Mrs.," rather than your username. If they're impersonating a well-known company, scammers might use that company's logo incorrectly. They often contain links that look legitimate but link to a malicious website. You can see where a link will take you at the bottom of the screen when hovering over (but not clicking on) the link. Phishing scams may also present offers that sound too good to be true, such as a free $50 Amazon gift card, to entice you into clicking on the links.
Many phishing scams are more sophisticated. Some may appear as a warning of hacking attempts to your accounts. They will tell you that someone tried to log into your account unsuccessfully and that you need to change your password. They will contain links to a page that looks very similar to the actual service they are impersonating and contain boxes to enter in your email address and password. If you feel the password needs to be changed, go directly to the company's website to change it.
What do I do if I get a phishing email?
If you suspect that you have received a phishing email, we suggest that you do not click on any links in the message and delete it immediately from your inbox and trashcan. If you're not sure if the email is legitimate and want to investigate further, call the company from whom the email appears to have been sent. They should be able to confirm whether or not they sent you the email. Some companies may also have a phishing reporting service so that you can report the phishing scheme to them.
International monitoring services, such as FraudWatch International, keep an updated log of phishing attempts appearing as well-known companies such as Yahoo, Apple, or PayPal.
Best Practices:
NEVER reply to a message asking you to send out your confidential information, including email username and password or social security number.

If a deal sounds too good to be true, it probably is.

If you think you may have received a phishing email, call the company. Many services, such as Amazon, can see if they actually sent you an email.

If you think you sent your personal information to a phishing scam, change the passwords to all of your email and personal accounts (banking, shopping, or social media) right away.

If an email directs you to a login page, do not enter your username and password there. Go directly to the company's website.
Phishing Example: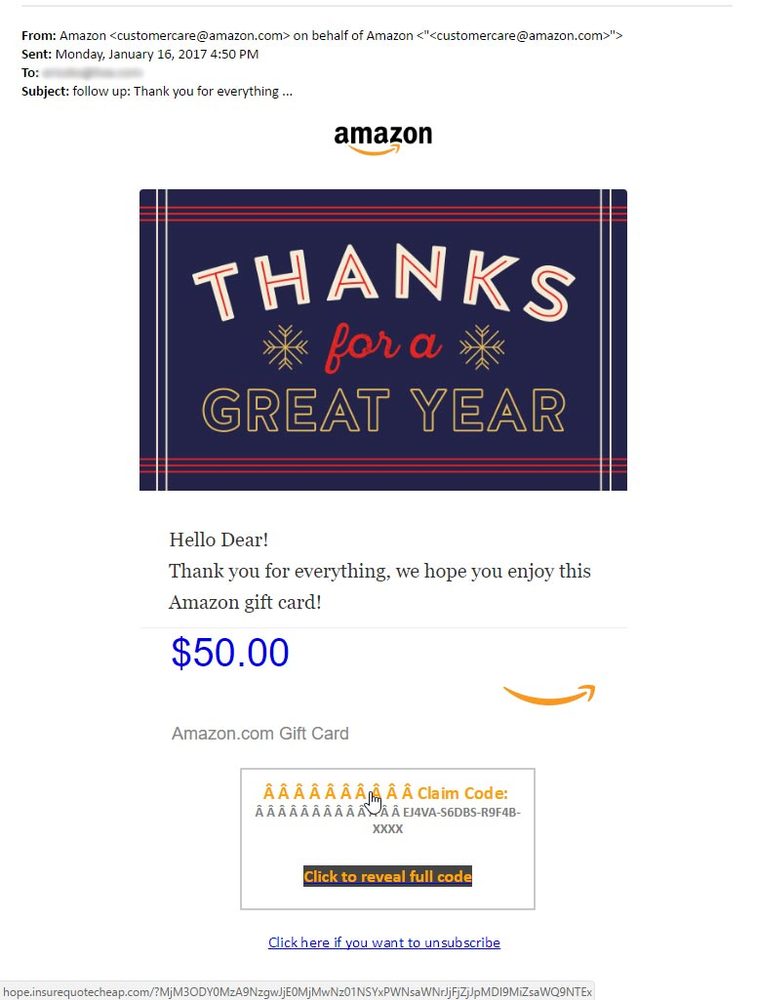 ---
Carson Attends
National
Television Conference
David Carson, Outside Plant Supervisor for NATCO Communications, Inc., recently attended the 2017 Winter Educational Conference of the National Cable Television Cooperative, Inc. (NCTC) held in New Orleans, Louisiana.
The conference offered opportunities for NCTC member representatives to learn about new industry trends, video strategy, and emerging technology in a series of educational sessions held over two days.
The conference featured speakers from industry-leading technology providers as well as consultants and advocates for the television industry. Carson attended various sessions featuring video and broadband market analysis, regulatory updates, network improvements, and IP video strategy.
The conference also featured a Solutions Showcase where key industry product and equipment vendors were available to demonstrate the latest in video technology.
"NCTC keeps its members up to speed with various educational conferences held throughout the year. The Winter Educational Conference is particularly beneficial as it covers all aspects of IP Video from marketing to broadband infrastructure. The sessions were extremely informative and provided useful tips that will enhance our video product for customers," stated Carson.
---
Join Our Team!
Job Title: Installation and Repair Technician
Job Status: Full-Time or Part Time
Job Summary:
Telecommunications Installation and Repair Technician needed in Flippin, AR. Must be able to work with the public and maintain the confidentiality and accuracy of records. The ideal candidate will have I&R experience, including experience with ADSL, Ethernet Services, Fiber / Fiber Splicing and other digital services. This job will also require installing and repairing outside plant facilities, both buried and aerial. Strong computer/internet skills a plus. Please forward resumes to Human Resources, PO Box 209, Flippin, AR 72634. An Equal Opportunity Employer (EOE).
Job Title: Customer Sales Representative
Job Status: Full-Time or Part Time
Job Summary:
The ideal candidate will possess outstanding communication skills, including articulation, grammar and persuasion, customer service etiquette, and interpersonal skills. This position will generate revenues through telemarketing, cold calling, prospecting and networking; maintain sales goals and meet quotas. Must have proven outbound calling experience. This position will be discussing telephone, Internet, television, and more. Must be a positive, outgoing, results-oriented team player with the ability to handle stressful situations. Minimum base rate plus commission and work from home a possibility. Please send resumes to Human Resources, PO Box 209, Flippin, AR 72634. Equal Opportunity Employer (EOE).
Job Title: Staff Accountant
Job Status: Full Time
Job Summary:
Seeking a highly motivated individual for accounting department. The qualified applicant will possess excellent PC skills and spreadsheet abilities. Must be a self-starter as well as a team player. BS/BA in Accounting required and CPA a plus! Please forward resumes to Human Resources, PO Box 209, Flippin, AR 72634. An Equal Opportunity Employer (EOE).
---
Whether you want to know more about a NATCO service, need an explanation about your bill, or need to report a service outage, we're here to help!
How to Reach Us...
Customer Service & Business Office
In Flippin: 453.8800
Outside Flippin: 1.800.775.6682
Office Hours: 8am - 5pm Monday through Friday
Repair Service
In Flippin: 453.8821
Outside Flippin: 1.800.775.6682
Internet Technical Support
All Areas 24/7: 1.888.276.8059
Email: service@natconet.com
Call NATCO Customer Service at 453.8800 or toll free 800.775.6682 for information on scheduling new service or repair on Saturday or after normal business hours.
---
NATCO Fundraiser Benefits
Serenity
NATCO recently held a fundraiser for Serenity, our local shelter for victims of domestic violence. NATCO employees raised $300 for a very worthy cause. We hope, through our efforts, we can raise awareness and funds for programs to benefit survivors of domestic violence.
We are extremely proud of the voluntary efforts by everyone at NATCO Communications. To learn more about how you can help or donate, please visit: http://www.serenityinc.org/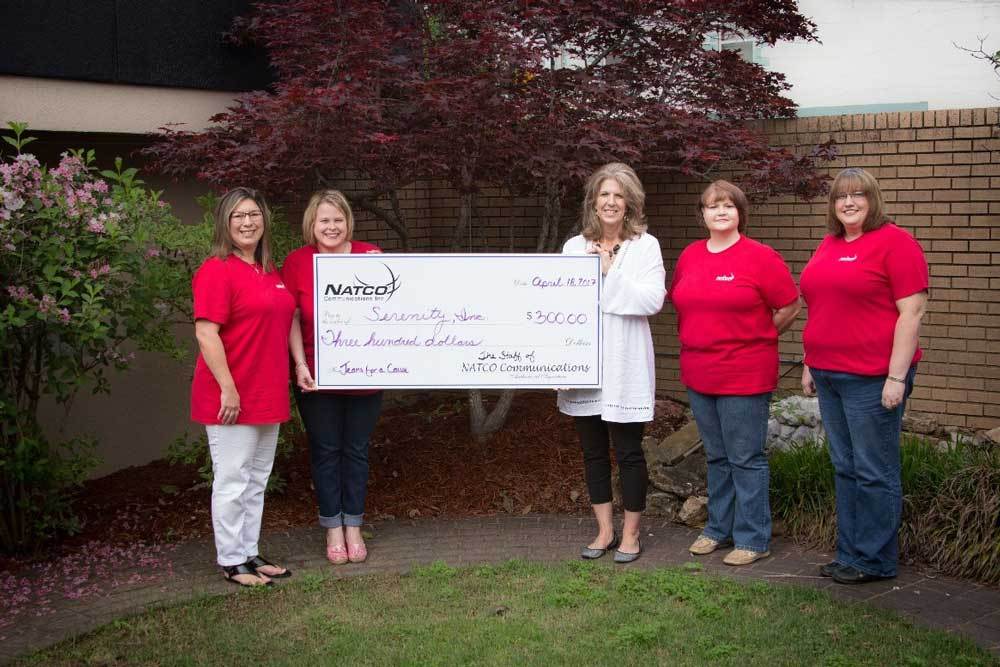 Jeans for a Cause, November 2016, Domestic Violence Awareness Month
Pictured L to R: Danielle Sanders, Monica Principato, Donna Forrester, Executive Director Serenity Inc., Linda Lucy, Melissa Merkel; Photo: Mark Principato
---
Directory Ad Sales Now
Underway
It's that time again! Northern Directory Publishing (NDP), the only official publisher of the NATCO Ozark Regional Directory, is currently contacting businesses in the area. Angela Ritz, our NDP representative, will be calling or stopping by to help you find just the right package for your individual advertising needs. If you have questions or are wanting to advertise, please call the NATCO Flippin office at 1-800-775-6682, and we will be happy to help!
---