June 2017 Enewsletter
---
NATCO Television Delivers
More!
More Options, More Channels, More Savings

With a NATCO TV bundle you'll get crystal-clear, high-def quality along with FTTH 50Mbps Internet and Unlimited Voice (local and long distance) for what most people pay for television service alone.
NATCO TV offers:
• More Options: From those who just want the basic news and weather to those who stay glued to the screen for hours each day, NATCO television has the right package for you.
• More Channels: Our new Premier Package offers more than 130 channels of actual television programming! Other providers include a hefty number of audio-only channels in their lineups. Our packages include REAL television channels with popular television programs.
• More Savings: NATCO's television bundles include your selected TV Package, 50Mbps Internet and Unlimited Voice (local, long distance and calling features) – all for one great monthly price.
Limited Time Offer




Sign Up Today!

Receive FREE Installation for up to 2 TVs & FREE Equipment Lease for 2 TV set top boxes for 6 months. (Excludes Flex Pack)
Mention Promo Code: TVFREE3
Check out our complete channel guide and additional bundle details online.
Call 800.775.6682 to sign up or email our Customer Service Team at service@natconet.com.
Note: NATCO TV not available in all areas. Please call for details based on your location.
---
Convenient Account Access at Your Fingertips!
Not only does SmartHub give you the ability to pay your bill online, it also allows you to have 24/7 contact with us via the web or your mobile device.
Perhaps you have an after-hours question about your bill or an issue with your NATCO service and want to contact us. Just login to the secure portal and message our team – anytime, anywhere.
SmartHub is the convenient way to manage your NATCO account. See your account info in real time – no more wondering if payments have been posted or if the new service you signed up for has been added to your account. Your account info is all right at your fingertips.
Sign up for SmartHub in a few easy steps -
takes less than 3 minutes!

Visit natco.smarthub.coop or natconet.com, select the Account Access tab and Pay Online on the sub-menu. SmartHub app is available for iOS and Android
What You'll Need to Register:

Billing Account Number
Last Name or Business Name of Account Holder
A Valid Email Address

Two of the Following:

Last 4 Digits of SSN or Federal Tax ID
Mailing Zip Code
Most Recent Bill Amount
Birthdate (mmdd)

If you need assistance with sign up,
we're here to help! Call us toll free: 800.775-6682

When you call, we'll ask you to update/confirm your contact information for the new system.
---
What NATCO Broadband
Speed
Do You Really Need?
In today's Internet-driven world, it may surprise you how connected your household has become.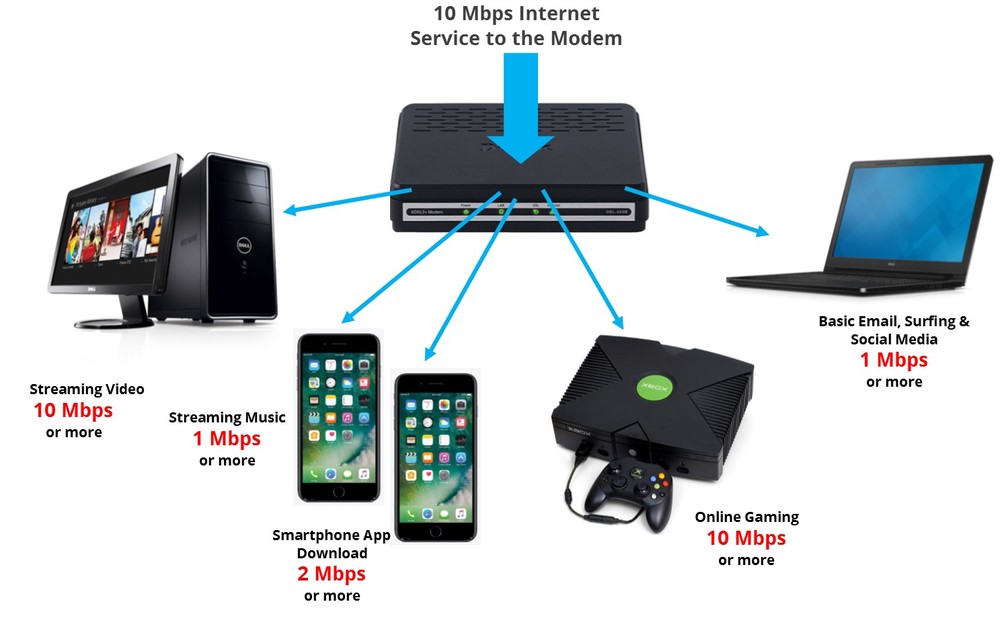 With all these devices connected at one time, bandwidth for the typical household Internet plan (10 Mbps) is completely maxed out. This means streaming videos and music buffers, programs and apps download slowly, and online video games freeze up or lag.
The chart below illustrates some of the most common Internet-driven activities and the recommended plan to ensure an optimal Internet experience.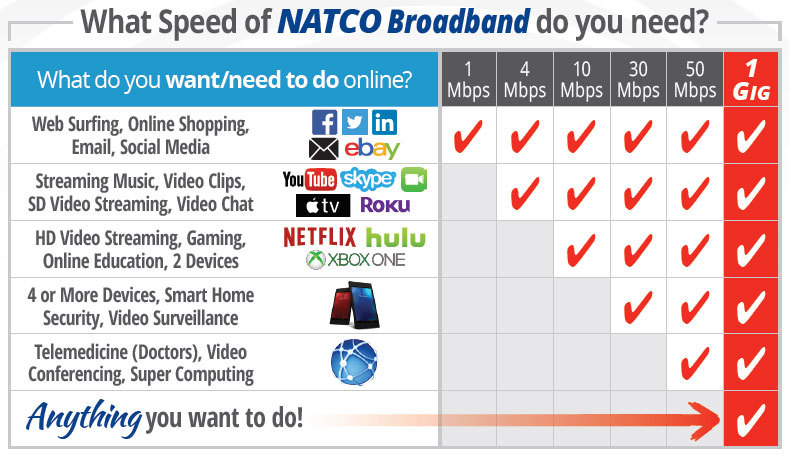 Our Customer Service Reps can help you determine the best plan to suit your needs and budget!
Ask about our limited-time special offer on fiber bundles! It's the most affordable way to stay connected. Call 800.775.6682 or email us at service@natconet.com
---
New
Business Phone Systems
Going beyond the office walls to wherever your business takes you!
"NATCO's team implemented a Vertical telephone system solution that has enabled us to focus on an increasing number of customer calls. As our customers' needs change, we are able to quickly adjust the voice technologies to meet demand."

Kalinn Davis, Owner
Favored Four Inc.

For more information on NATCO's business phone systems, visit our website or contact Tim McEuen at 870.453.9237 or tmceuen@natconet.com
---
A special thank you to the customers who joined us on May 23rd for our Open House and Hands-On Technology Showcase. We enjoyed meeting each of you, answering questions and assisting as you tried our most popular services, like 1Gig Fiber Internet and NATCO TV.
Prize Winners:

Diane Mikrut won a Nextbook Tablet.

Zula King won a Nextbook Tablet.

Phil and Jean Hoefer won a 32" Samsung Smart TV.
---
The Call
of Marion County Receives NATCO Staff Support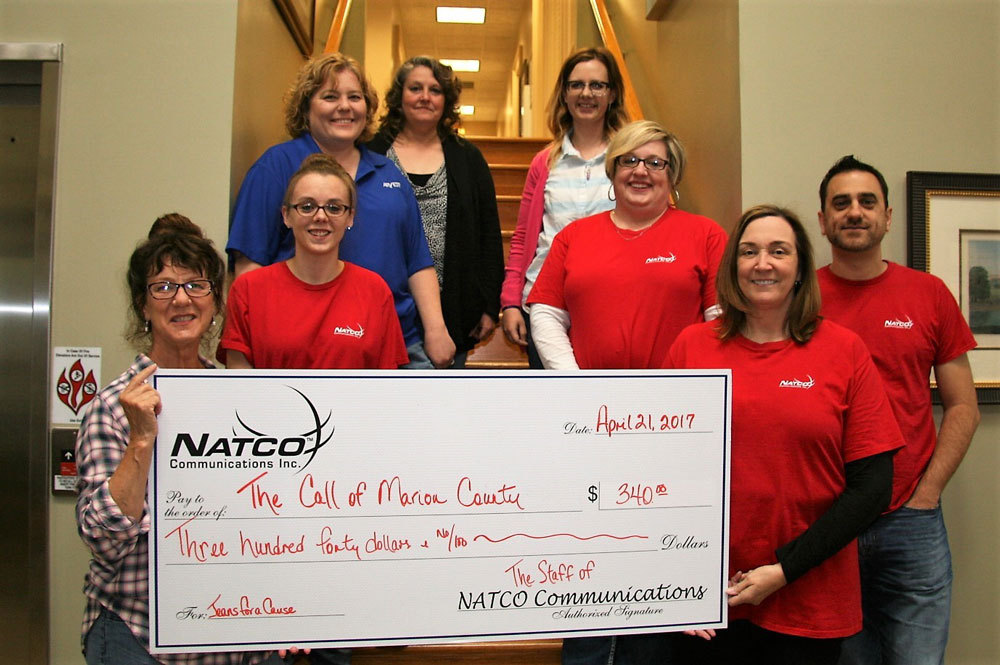 Pictured from the CALL of Marion County: Edie Hampton, County Coordinator, Tobey Norberg,
Financial Coordinator, Karen Carter, Prayer Coordinator, and Danielle Davenport, Fundraising Coordinator.
Pictured from NATCO Communications: Kayla Stafford, Lisa Matusiak, Teresa Garner, and Mark Principato
Photo: Danielle Sanders
The Call of Marion County, a foster parenting organization, was the recipient of NATCO's recent "Jeans Day" fundraiser.

Many times, children come to foster homes without clothing or personal items. The Call assists in providing basic personal items for these children.
During the month of March, NATCO employees paid to wear jeans to work. Their efforts raised over $340 for this great cause. We appreciate the special work undertaken by The Call and are happy to give our support.
For more information on The Call of Marion County, please visit:
https://www.facebook.com/thecallmarioncounty/
---
Latest Roku Device Recommended for NATCO Television Customers
The manufacturer has discontinued support for the original Roku 2 streaming player and we're encouraging all NATCO Flex Pack customers to upgrade to the latest series of Roku devices to ensure software and channel updates will be available in the future.
Roku ceased manufacture of the entire original series of Roku devices (models 1,2,3, 4, XD, etc.) last fall and are phasing out support and software updates for those original Roku devices.
The new series of Roku streaming players include additional features and functionality not found in earlier models and are available from NATCO (lease or purchase).
If you currently own an older Roku device and would like to upgrade, give us a call at 800.775.6682 or email service@natconet.com. We'll be glad to help.
Consumer Reports: Guide to Online Streaming Services
---
Summer Gear Giveaway Coming Soon
---
Connect with Us on Facebook, Twitter, Instagram & YouTube
By connecting with us on Social Media, you'll be among the first to learn about new services and special offers from NATCO as well as the latest tech news and company announcements.
---
Job Title: Staff Accountant
Job Status: Full-Time
Job Summary:
Seeking a highly motivated individual for accounting department. The qualified applicant will possess excellent PC skills and spreadsheet abilities. Must be a self-starter as well as a team player. BS/BA in Accounting and a CPA required! Please forward resumes to Human Resources, PO Box 209, Flippin, AR 72634. An Equal Opportunity Employer (EOE).
Job Title: Installation and Repair Technician
Job Status: Full-Time or Part Time
Job Summary:
Telecommunications Installation and Repair Technician needed in Flippin, AR. Must be able to work with the public and maintain the confidentiality and accuracy of records. The ideal candidate will have I&R experience, including experience with ADSL, Ethernet Services, Fiber / Fiber Splicing and other digital services. This job will also require installing and repairing outside plant facilities, both buried and aerial. Strong computer/internet skills a plus. Please forward resumes to Human Resources, PO Box 209, Flippin, AR 72634. An Equal Opportunity Employer (EOE).

Job Title: Customer Sales Representative
Job Status: Full-Time or Part Time
Job Summary:
The ideal candidate will possess outstanding communication skills, including articulation, grammar and persuasion, customer service etiquette, and interpersonal skills. This position will generate revenues through telemarketing, cold calling, prospecting and networking; maintain sales goals and meet quotas. Must have proven outbound calling experience. This position will be discussing telephone, Internet, television, and more. Must be a positive, outgoing, results-oriented team player with the ability to handle stressful situations. Minimum base rate plus commission and work from home a possibility. Please send resumes to Human Resources, PO Box 209, Flippin, AR 72634. Equal Opportunity Employer (EOE).
---
Whether you want to know more about a NATCO service, need an explanation about your bill, or need to report a service outage, we're here to help!
How to Reach Us...
Customer Service & Business Office
In Flippin: 453.8800
Outside Flippin: 1.800.775.6682
Office Hours: 8am - 5pm Monday through Friday
Repair Service
In Flippin: 453.8821
Outside Flippin: 1.800.775.6682
Internet Technical Support
All Areas 24/7: 1.888.276.8059
Call NATCO Customer Service at 453.8800 or toll free 800.775.6682 for information on scheduling new service or repair on Saturday or after normal business hours.
SmartHub – Send us a message 24/7 from your SmartHub account!
---