August 2017 Enewsletter
---
Show Us Your Back to School
Best or Worst!
Earn $ for your school's technology department

For parents, students & teachers alike, the first day of school can be exciting and memorable... but, it can also be downright hysterical!
Post your back-to-school photos on NATCO's Facebook page. Tag your school name in your comment and earn a $1 donation from NATCO for your school's technology program.
All who post photos AND LIKE NATCO's Facebook page will be entered in a drawing to win a Nextbook!
The contest is open to schools located within the NATCO service area:
| | | | |
| --- | --- | --- | --- |
| #BrunoPyatt | #FlippinSchools | #LeadHillSchools | #OHSEagles_AR |

Post Your Photo – post your best or worst back to school photo on NATCO's Facebook page
Tag Your School – tag/mention your school in the comment, # or @
Earn $1 Donation – each post earns $1 for your school's technology department
Enter the Prize Drawing – like NATCO's Facebook page to enter the prize drawing
Contest entries will be accepted through 8/25/17. Winner will be announced on 8/31/17. Participants agree to allow use of their entries for promotional marketing services. One photo/school tag per entry, per day.
---
You have
Options
with NATCO!
When you take time to think about all the connected devices in your household, you may be surprised at the amount of bandwidth required for them to function simultaneously without buffering, lagging or timing out.
Check out the chart below, which illustrates some common broadband uses and the amount of bandwidth required for each task. Now, compare the chart to what is frequently used in your household.
Does your current internet plan adequately provide what you need? NATCO offers affordable plans to help you get the most out of the internet, without breaking the bank.
Call our friendly Customer Care team today at 800.775.6682 and let us help you determine the best plan to suit your needs and budget!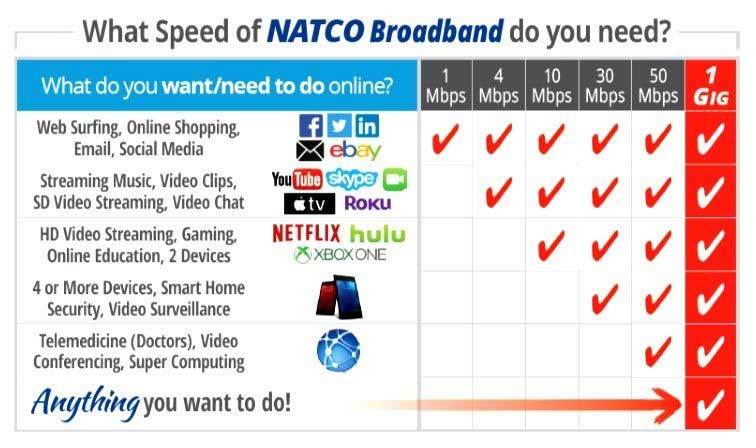 ---
No Hassle. We'll
Handle
It!
NATCO's Affordable Equipment Leasing Program
Why spend the time and money to research, purchase and install equipment on your own, when our team of professionals can handle it all for you?
We're in the internet business, so you don't have to be!
Installing internet equipment can be challenging. NATCO is here to make it as simple as placing a phone call. Simply contact NATCO to set up your equipment lease and we'll take care of everything – including providing you with quality equipment that we stand behind - all for one low monthly fee.
NATCO is pleased to add the NATCO Managed Router to our equipment leasing program.
The NATCO Managed Router delivers Gigabit data, IP video and quality voice services with outstanding coverage, performance and availability for a superior Wi-Fi experience.
NATCO leases the NATCO Managed Router for $10 per month. Your lease covers installation, any necessary router maintenance and replacement in the event of equipment failure.
NATCO also leases DSL modems for only $5 per month. These DSL modems come with the same great service and replacement guarantee.
Why hassle with equipment or pay upfront when NATCO's leasing program makes it easy and affordable? Call our friendly Customer Care team today to get started with our leasing program: 800.775.6682.
P.S. For additional peace of mind, sign up for NATCO's TechSafe Support Plans. The wire maintenance policy offered by NATCO Communications for single line customers covers all your inside wiring for $5.00 per month. For more details, visit https://www.natconet.com/techsafe or phone 800.775.6682 today.
---
NATCO Assists with Flippin Ball Park
Lighting
NATCO Communications, Inc. recently assisted the City of Flippin by drilling holes for the installation of poles at the Hickey Park baseball and softball complex to provide lighting for the playing fields.
"NATCO is pleased to be able to work in cooperation with many other businesses and individuals to assist the City with this project. Our crews were excited to help, as many of our staff have family members who play on these ball fields," stated Tim McEuen, NATCO's Director of Customer Care.
The new park lights provide greater flexibility for game scheduling and provide opportunities for the City to host additional games and tournaments. As a result, the increase in visitors will positively impact the City's economy through purchases at Flippin businesses and restaurants.
"We believe in helping where we can to improve the community. This worthwhile project will have a lasting impact on the City of Flippin. NATCO is glad to be a part of it," stated McEuen.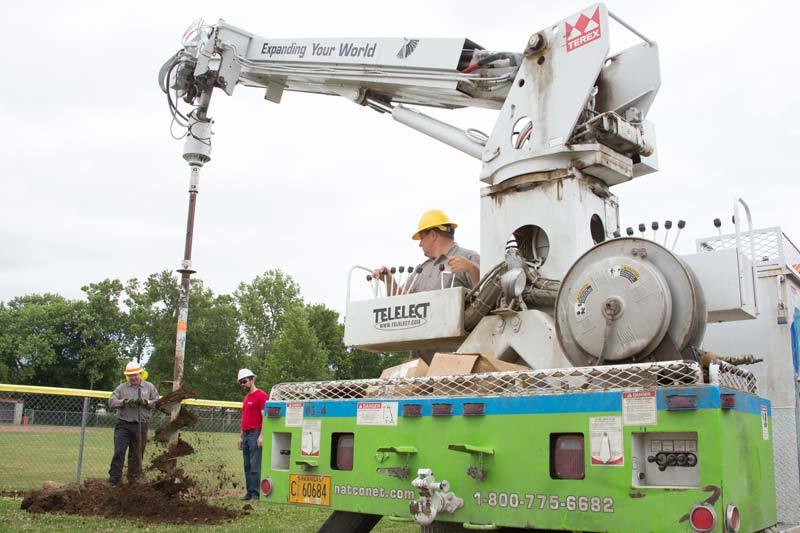 NATCO Communications, Inc. crew assists the City of Flippin with drilling holes for poles which will hold new lights at the Hickey Park ball fields. Pictured from NATCO (left to right): Brad Wiseman, Cable Maintenance Technician; David Carson, Outside Plant Supervisor; and Thomas Richey, Lineman.
---
McEuen Promoted to Director of
Customer
Care
NATCO Communications, Inc. is pleased to announce the promotion of Tim McEuen to Director of Customer Care.
In his expanded, supervisory role, McEuen will oversee NATCO's customer care and sales staff. McEuen will continue to connect directly with business and residential customers to provide communications solutions and services utilizing NATCO's state-of-the-art fiber network.
A graduate of Forrest City High School, McEuen has worked in the telecommunications industry for over 35 years providing leadership in sales, customer service, project management and technical support.
Prior to joining NATCO, McEuen developed sales teams and strategies and was responsible for structuring the build out of a fiber network to new customers in the Jonesboro area. He has experience working with businesses providing unified communications solutions and specializes in working with carriers for Ethernet services, wireless back-haul, and dedicated Internet access.
McEuen joined NATCO in 2016, quickly acclimating to the company and his External Relations position.
"Tim is an outgoing, forward-thinking guy who has the knowledge and experience to drive our growth as a broadband company. He is relatable; which is a quality that translates well with our customers and our staff. We look forward to what he brings to the position of Director of Customer Care," stated Steven Sanders, President and General Manager of NATCO Communications, Inc.
---
Winner of Celebrating
You!
July Giveaway
From over 2,000 entries, the following winners were drawn for the July Celebrating You! Prize Giveaway. Thank you all for participating! We look forward to another great giveaway soon.
VonShef Picnic Basket: Danielle Herron
INTEX Oasis Floating Lounge Raft: Mellisa Robinson
SEMOO 4-Person Tent: Carol Blount
Pair of Zero Gravity Chairs: Josh Collins - not pictured
Char-Broil Grill: Toni & Doug McManness
GRANDPRIZE WINNER OF THE YETI is.....Debbie Woods!

Danielle Herron winner of VonShelf Picnic Basket

Mellisa Robinson winner of INTEX Oasis Floating Lounge Raft

Carol Blount winner of SEMOO 4-Person Tent

Toni McManness winner of Char-Broil Grill

Debbie Woods grand prize winner of Yeti Cooler
---
Annual Recycling Project
Underway
The new 2017-2018 Ozark Regional Directories will arrive soon! That means it's time for our annual directory recycling project.
For 24 years, NATCO has coordinated the directory recycling program and encourages all customers to drop off their old Ozark Regional Directories (or any old directory) at one of the convenient recycling bin locations in their community.
The recycling bins will be in place beginning August 28th until the end of September.
2017 Community Recycling Bin Locations
Bull Shoals: City Hall & Arvest Bank
Diamond City: City Hall
Flippin: Arvest Bank, City Hall & NATCO Front Lobby
Lead Hill: Arvest Bank
Omaha: City Hall
Yellville: Arvest Bank
Mountain Home: Arvest Bank Main Branch and Arvest Walmart Branch.
Pyatt: Bruno Pyatt School
Customers are asked to respect the property of the participating businesses and offices and place the old phone directories only in the bins marked with "Recycle" symbol and NATCO company logo. For more information, contact NATCO Customer Care in Flippin at 453.8800 or toll free 800.775.6682.
---
Join Our Team!
Job Title: Network Services Analyst
Job Status: Full-Time
Job Summary:
Network Services Analyst needed. The ideal candidate will have a minimum of five- years' experience in Genband CS15 (DMS-10) translations and maintenance activities, fiber optic transmission equipment experience, ADSL and IP networking knowledge. Digital Loop Carrier experience a plus. Come to work for a progressive company with excellent benefits and salary. Send resumes to: dsullivan@natconet.com or Human Resources, PO Box 209, Flippin, AR 72634. Equal Opportunity Employer (EOE).
Job Title: Staff Accountant
Job Status: Full-Time
Job Summary:
Seeking a highly motivated individual for accounting department. The qualified applicant will possess excellent PC skills and spreadsheet abilities. Must be a self-starter as well as a team player. BS/BA in Accounting and a CPA required! Please forward resumes to Human Resources, PO Box 209, Flippin, AR 72634. An Equal Opportunity Employer (EOE).
Job Title: Installation and Repair Technician
Job Status: Full-Time or Part Time
Job Summary:
Telecommunications Installation and Repair Technician needed in Flippin, AR. Must be able to work with the public and maintain the confidentiality and accuracy of records. The ideal candidate will have I&R experience, including experience with ADSL, Ethernet Services, Fiber / Fiber Splicing and other digital services. This job will also require installing and repairing outside plant facilities, both buried and aerial. Strong computer/internet skills a plus. Please forward resumes to Human Resources, PO Box 209, Flippin, AR 72634. An Equal Opportunity Employer (EOE).
Job Title: Customer Sales Representative
Job Status: Full-Time or Part Time
Job Summary:
The ideal candidate will possess outstanding communication skills, including articulation, grammar and persuasion, customer service etiquette, and interpersonal skills. This position will generate revenues through telemarketing, cold calling, prospecting and networking; maintain sales goals and meet quotas. Must have proven outbound calling experience. This position will be discussing telephone, internet, television, and more. Must be a positive, outgoing, results-oriented team player with the ability to handle stressful situations. Minimum base rate plus commission and work from home a possibility. Please send resumes to Human Resources, PO Box 209, Flippin, AR 72634. Equal Opportunity Employer (EOE).
---
Tell Us More!
If you, or someone in your household, has a hearing, vision, movement, manipulative, speech, cognitive, or similar disability, we invite you to provide information and suggestions on how NATCO can better address the needs of our customers with disabilities.
Your feedback will help us improve the communications services we offer. To provide us with your suggestions, please complete the questionnaire using the PDF form available for download (print out and complete).
Your information can be submitted three ways:
Mail your completed form to P.O. Box 209, Flippin, AR 72634
Deliver your completed form to NATCO's main office at 301 East Main Street, Flippin, AR
Provide your answers via phone by calling 800.775.6682.
Should you have accessibility issues, please contact our Customer Service representatives at 800.775.6682. For the hearing impaired, Arkansas Relay Service (ARS) is available 24 hours a day, 7 days a week. There is no extra charge for using ARS.
Dial 711 (available nationwide) or Voice: 1-800-285-1121
TDD/TTY: 1-800-285-1131
ARS Customer Service: 1-800-285-7192
For more information on NATCO Customer Accessibility visit: https://www.natconet.com/accessibility
We look forward to receiving your suggestions. Thank you!
---
Cellular:
Unlimited
Data + New Smartphones
New Smartphones – Starting at $4.99/mo.* +
UNLIMITED 4G DATA
Voice & Text
Individual: only $80/mo.*
Greenlight Multi-User Plan: starts at $120/mo.*
(Primary line + $20/mo. per user)
* 4G LTE Service only. Network management will be utilized for prioritizing data usage. Mobile hotspot/tethering reduced to 3G speeds after 10GB/mo. and at individual line usage after 22GB monthly to manage network congestion as needed. Certain restrictions apply. Limited time offer. See NATCO for details. Smartphone discount applies to first 12 months.
---
Whether you want to know more about a NATCO service, need an explanation about your bill, or need to report a service outage, we're here to help!
How to Reach Us...
Customer Service & Business Office
In Flippin: 453.8800
Outside Flippin: 1.800.775.6682
Office Hours: 8am - 5pm Monday through Friday
Email: service@natconet.com
SmartHub 24/7 Customer Portal: https://natco.smarthub.coop/
Repair Service
In Flippin: 453.8821
Outside Flippin: 1.800.775.6682
Internet Technical Support
All Areas 24/7: 1.888.276.8059
Call NATCO Customer Service at 453.8800 or toll free 800.775.6682 for information on scheduling new service or repair on Saturday or after normal business hours.
---