December 2017 Enewsletter
---
Dedicated, Responsive
Support
NATCO's IT & Internet Team is ready to help!

"NATCO is bringing today's most advanced technology to our rural community. Because we live here & work here, we share the same interests and challenges as the people we serve. We take great pride in supporting our local communities."

Kayla Stafford, Computer Specialist

South Shore Marion County Youth Leadership Alumni
Flippin High School Valedictorian 2012
University of Arkansas at Little Rock 2016
---
NATCO hosts South Shore Marion County Youth Leadership Group
On December 6, 2017, NATCO welcomed the South Shore Marion County Youth Leadership group for their annual Tech Day in Flippin. Students from Flippin, Bruno-Pyatt, and Yellville-Summit learned about technology and taught us a bit as well! It was exciting to meet such a great group of young leaders from our community.
---
Make great stocking stuffers!
NATCO offers the latest smartphones from Apple, LG, Samsung and MORE! For a limited time, get the latest devices starting at only $4.99 per month when you sign up for the EXTRA payment plan. It's an affordable way to put smiles on faces Christmas morning!
NATCO's new UNLIMITED 4G Voice, Text & Data plans make it even easier to stay connected in the New Year. We even have data plans for iPads!
NATCO's Customer Care Team is here to make switching EASY! Just give us a call 800.775.6682, email service@natconet.com or stop by the office and try out a new smartphone today!
---
New
Channels & Changes to Lineup
NATCO TV customers may have noticed a few upgrades and changes to the television channel lineup. The following changes, including the addition of four new channels, affect all NATCO television subscribers:
Channel 14 is ION Television NEW
Channel 29 is now Justice
Channel 31 is now Charge!
Channel 32 is Comet NEW
Channel 36 is COZI NEW
Channel 37 is Light TV NEW
Favorites and Premier Package Subscribers will also find the addition of:
Channel 216 – Fox Sports Southwest Plus – HD NEW
Channel 217 – Fox Sports Southwest Plus NEW
Channel 561 – Spike will change its name to Paramount Network January 18, 2018.
Updated channel guides have been published online at https://www.natconet.com/channel-guides
As new channels are added, we will update you on your new viewing options.
If you'd like more information on NATCO TV, contact our Customer Care Team at 800.775.6682 or service@natconet.com. We'll be happy to explore NATCO's television options with you!
---
NATCO Float in
Christmas
Parade
Our team had loads of fun building and decorating NATCO's float for the Flippin Christmas parade held on Saturday, December 9, 2017. Our theme was "A Charlie Brown Christmas." Thank you to the Flippin Chamber of Commerce for putting on this event and to everyone in the community who came out to enjoy the festivities.
---
Merkel Taking on New Role as Data
Analyst
Long-time team member recently promoted
NATCO is pleased to announce the promotion of Melissa Merkel to the position of Data Analyst. Merkel joined NATCO's staff in 1999 and served as the company's Customer Service Manager for 17 years.
In her new role as Data Analyst, Merkel tracks and analyzes data for the company's multiple service lines: Voice, Internet, Cellular and Television. She reports product and service trends within the company and provides analysis to assist management in formulating solutions to improve operations and address customers' communication needs.
"Melissa has been an integral part of NATCO's team for many years. Her experience with Customer Service and thorough knowledge of NATCO's multiple service lines makes her an ideal fit as Data Analyst. Her attention to detail in tracking our company's multiple service lines provides our team with accurate insight to improve our service and product offerings to customers," stated Steven Sanders, Jr., President and General Manager of NATCO Communications, Inc.
A lifelong resident of the Twin Lakes area, Merkel is a graduate of Mountain Home High School. She and her family reside in Yellville.
---
Creative
Arts Awards Ceremony Held at NATCO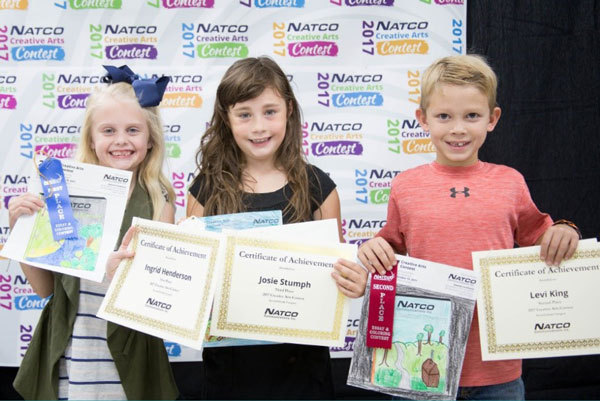 2nd grade winners in NATCO's 2017 Creative Arts contest.
From left to right: 1st place - Ingrid Henderson,
3rd place - Josie Stumph, and 2nd place - Levi King.
View the list of winners online at natconet.com.
NATCO Communications recently held its annual awards night for winners of the Creative Arts Contest for students in schools within their service area.
Each year, students in kindergarten through eighth grade from Flippin, Yellville-Summit, Bruno-Pyatt, Lead Hill, Omaha, and Bergman are invited to participate in the contest through their schools.
Winners received cash prizes totaling more than $450, certificates and ribbons, and were treated to a light dinner at the award ceremony.
To view a complete gallery of the winners and their creative entries, visit NATCO's Facebook Page:
2017 Creative Arts Contest or view the press release on our website for additional details.
---
Gimme
Fiber
Celebration Winner
Lynn Walker of Bull Shoals (pictured) won an Echo Dot during our Gimme Fiber Celebration held on November 3rd at the Main Office in Flippin.

We enjoyed seeing everyone who stopped by to help us celebrate the innovation of fiber optic technology.


---
Compare Cellular Bills and
Save
with NATCO!
Let us review your bill and explore the options
Send in, bring in or call in the details from your cellular phone bill and we'll evaluate your current plan, without obligation, to determine if NATCO can provide better options for your cellular service.

We'll explore whether NATCO can provide better signal coverage with our extensive, nationwide network or, provide more talk, text and data with our unlimited plans – all while saving you money each month.

Our Customer Care Team is ready to help!

Drop by our office in Flippin with a copy of your current cellular bill
Mail a copy of your current bill to us at PO Box 209, Flippin AR 72634
Give us a call at 800.775.6682 to review your current cellular plan

We make switching cellular providers EASY!
---
Check out Arkansas' traffic cameras online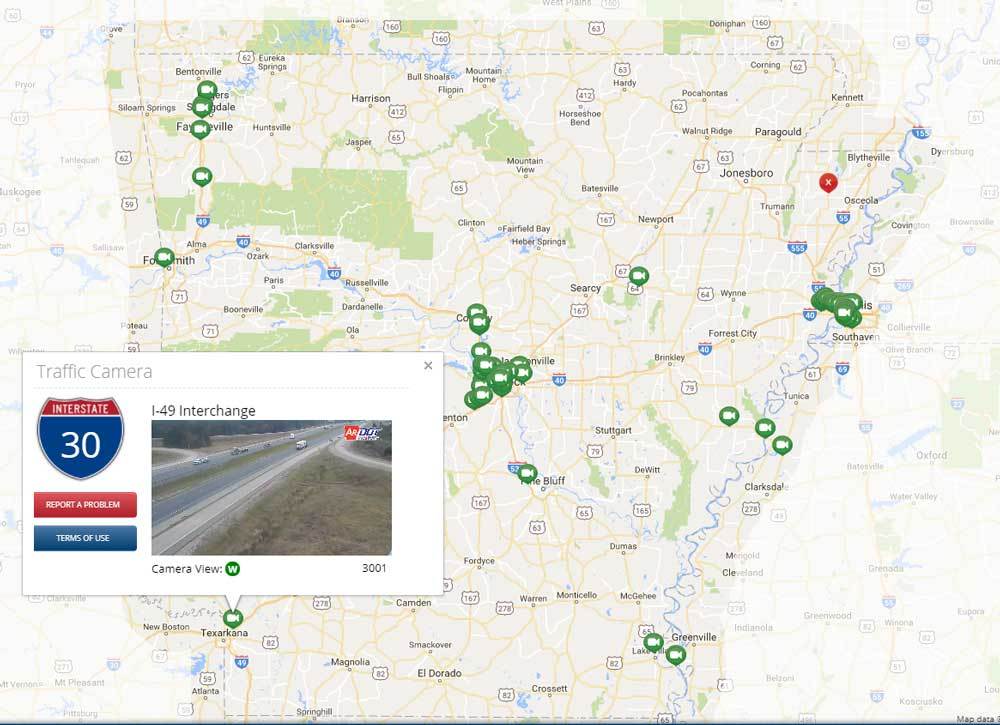 The Arkansas Department of Transportation has installed live traffic cameras around the state. Real-time, streaming views from these camera locations are accessible on the website idrivearkansas.com. Site visitors can click on a camera location and the live video stream will play.
Winter weather conditions, accidents and road closures are all noted on the state map making the website a great resource for travelers. Check it out before your next road trip!
---
NATCO
Welcomes
Installation & Repair Technician Lane
NATCO Communications, Inc. announces the addition of Installation and Repair Technician Justin Lane to the staff. A lifetime resident of the area and graduate of Flippin High School, Justin earned his Associate of Applied Science in Information Systems Technology from Arkansas State University Mountain Home.

Lane is certified in CISCO Networking and experienced working with a variety of routers, switches and networks and protocols. "Justin is a valuable addition to the NATCO staff. His background in IT and professional experience are a great foundation for his work as an Installation and Repair Technician. He has the skills and background to connect and support NATCO customers telecommunications needs in the field," said NATCO Outside Plant Supervisor David Carson. As an Installation and Repair Technician, Lane delivers broadband technology to residential and business customers throughout NATCO's service area.

Lane resides in Mountain Home with his wife, Crystal, stepson Gavin, and daughters Rosalie and MacKenzie. He enjoys hunting and fishing.
---
NATCO Staff
Donates
to Food Bank
| | |
| --- | --- |
| | In September, NATCO Communications sponsored ten staff members at $25 each for donating their time volunteering at Bridge Bash, the annual fundraiser for North Central Arkansas Food Bank. Our staff also raised funds on their own and donated $225 towards the food banks located specifically in Marion and Boone counties - the areas we serve. With $475 donated in total, our team here at NATCO was able to provide 2,375 meals for families in our service area. We are proud of the work family we have here and all they do for our community. Everyone here is already looking forward to next year's Bridge Bash. |
---
Let's Get Social: Facebook, Twitter, Instagram & YouTube
By connecting with us on Social Media, you'll be among the first to learn about new services and special offers from NATCO as well as the latest tech news and company announcements.
---
Local Support You Can Count On
Whether you want to know more about a NATCO service, need an explanation about your bill, or need to report a service outage, we're here to help!
How to Reach Us...
Customer Service & Business Office
In Flippin: 453.8800
Outside Flippin: 1.800.775.6682
Office Hours: 8am - 5pm Monday through Friday
Repair Service
In Flippin: 453.8821
Outside Flippin: 1.800.775.6682
Internet Technical Support
All Areas 24/7: 1.888.276.8059
Call NATCO Customer Service at 453.8800 or toll free 800.775.6682 for information on scheduling new service or repair on Saturday or after normal business hours.
SmartHub – Send us a message 24/7 from your SmartHub account!
---