August 2015 Enewsletter
---
What Are You Paying?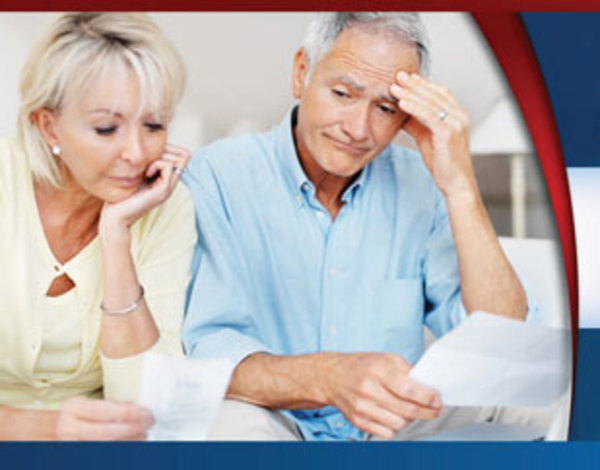 Compare and Save with NATCO - GUARANTEED!
Take a close look at what you're currently paying for communications services: television, local telephone, long distance, cellular and Internet.
Are you paying more than you thought when you combine your bills for a monthly total?
After reviewing your current plans and costs, give us a call at NATCO. We guarantee we can bundle your communications services & SAVE YOU MONEY!
NATCO offers great rates on bundled communications services with options including:
Unlimited long distance telephone service
Local landline telephone and/or cellular service
High-Speed Internet
We guarantee* NATCO can develop a bundle that meets your needs AND saves you money.
Plus, with a NATCO bundle you'll get:
One Company, One Bill
Affordable with Easy & Convenient Payment Options
Reliable Services from One Provider
Local Service & Support
Call us at 800.775.6682 to compare and start saving today!
* Limited time offer. In order to provide accurate comparisons, customers must provide copies of current bills - via fax, e-mail or standard mail. Customer bills must be provided to receive NATCO savings guarantee. Call 800.775.6682 for complete details and specific instructions on ways to submit bills for comparison.
---
Get 100+ Television Channels In Your Bundle and SAVE!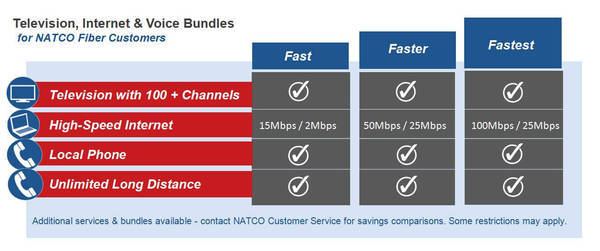 NATCO's bundles are even BETTER with 100+ Television Channels included in our new packages. Fiber customers can experience High-Speed Internet, local phone, unlimited long distance and television with over 100 of the most popular channels including ESPN, ESPN2, ESPN Classic, ESPNU, SEC Network, SEC2, SEC3, NBC Sports, Fox Sports Network, Fox Sports Southwest, Golf Channel and Outdoor Channel.
In addition to sports, the line-up also features favorites such as HGTV, Food Network, Cooking Channel, History, H2, Travel, A&E, and Discovery along with the major networks, weather, classic TV and news channels.
Call NATCO today for complete details and to take advantage of these money-saving bundles 800.775.6682.
---
Out with the Old... In with the NEW Ozark Regional Directories!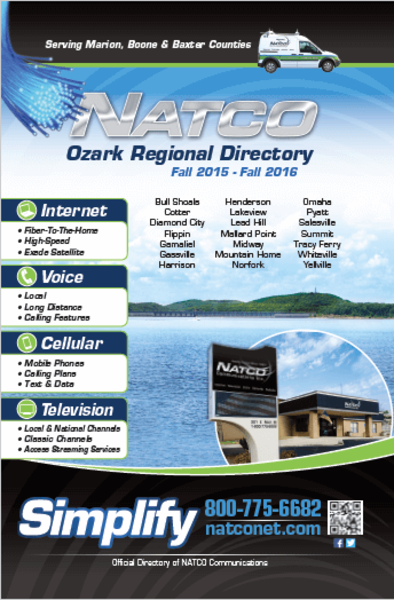 The new 2015-2016 Ozark Regional Directories will arrive soon! That means it's time for our annual directory recycling project.
For 22 years, NATCO has coordinated the directory recycling program and encourages all customers to drop off their old Ozark Regional Directories (or any old directory) at one of the convenient recycling bin locations in their community.
The recycling bins will be in place through the end of September.
Community Recycling Bin Locations
Bull Shoals: City Hall & Arvest Bank
Diamond City: City Hall
Flippin: Arvest Bank, City Hall & NATCO Front Lobby
Lead Hill: Arvest Bank
Omaha: City Hall
Yellville: Arvest Bank
Mountain Home: Arvest Bank Main Branch, Arvest Walmart Branch and Brooks Jeffrey Marketing
Customers are asked to respect the property of the participating businesses and offices and place the old phone directories only in the bins marked with "Recycle" symbol and NATCO company logo. For more information, contact NATCO customer service in Flippin at 453.8800 or toll free 800.775.6682.
---
Help NATCO Improve Accessibility

If you, or someone in your household, has a hearing, vision, movement, manipulative, speech, cognitive, or similar disability, we invite you to provide information and suggestions on how NATCO can better address the needs of our customers with disabilities.
Your feedback will help us improve the communications services we offer. To provide us with your suggestions, please complete the questionnaire using the PDF form available for download (print out and complete).
Your information can be submitted three ways:
1) Mail your completed form to P.O. Box 209, Flippin, AR 72634
2) Deliver your completed form to NATCO's main office at 301 East Main Street, Flippin, AR
3) Provide your answers via phone by calling 800.775.6682.
Should you have accessibility issues, please contact our Customer Service representatives at 800.775.6682. For the hearing impaired, Arkansas Relay Service (ARS) is available 24 hours a day, 7 days a week. There is no extra charge for using ARS.
Dial 711 (available nationwide) or Voice: 1-800-285-1121
TDD/TTY: 1-800-285-1131
ARS Customer Service: 1-800-285-7192
For more information on NATCO Customer Accessibility visit: http://natconet.com/accessibility
We look forward to receiving your suggestions. Thank you!
---
Super Cellular Offer: Huge Savings on Mobile Phones & Plans!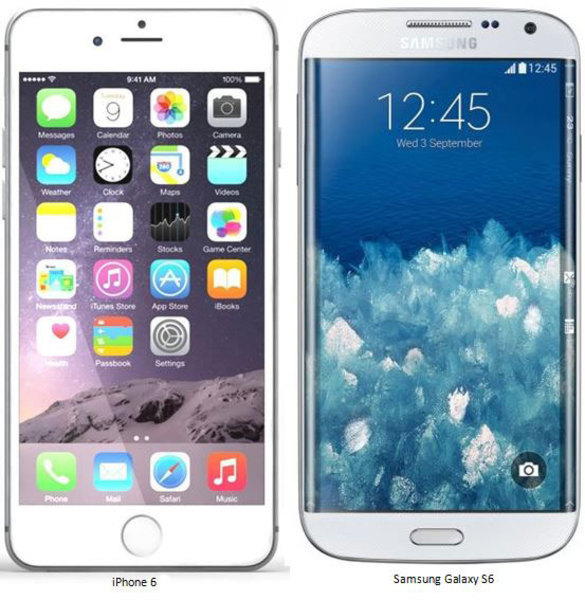 Switch Now & Save!
For a limited time, NATCO is offering big savings on some of the hottest new mobile devices, including the popular LG VS870 Lucid 2, Apple iPhone 6 and the Samsung Galaxy S6 or choose from many more styles!
Already have a phone? Keep your number and move to NATCO and enjoy savings on our new 4G plans.
Now through October 30th, sign up with NATCO cellular and take advantage of HUGE savings on plans for families, individuals and businesses - new or existing customers!
Sign up now and get a serious bargain on a great new phone or sign up for a discounted plan for the first 3 months.
Family Plan: All Together Shared 4G
Unlimited Talk & Text plus 2GB Shared Data - $40/mo. for first 3 months ($80/mo. thereafter) +$40 each additional companion phone.
Individual Plans:
Unlimited Talk & Text + 4G 2GB Data - $35/mo. for first 3 months ($75/mo. thereafter)
Unlimited Talk & Text + 4G 1GB Data - $30/mo. for first 3 months ($60/mo. thereafter)
Unlimited Talk & Text + 4G 500MB Data - $35/mo. for first 3 months ($55/mo. thereafter)
500 Talk & Text + 4G 500MB Data - $20/mo. for first 3 months ($40/mo. thereafter)
Switch now and save! Offer ends October 30, 2015. Call NATCO today at 800.775.6682!
Some restrictions may apply. Offers may not be combined. Call for details.
---
---
Visit NATCO's Staff & High-Tech Trailer at These Upcoming Events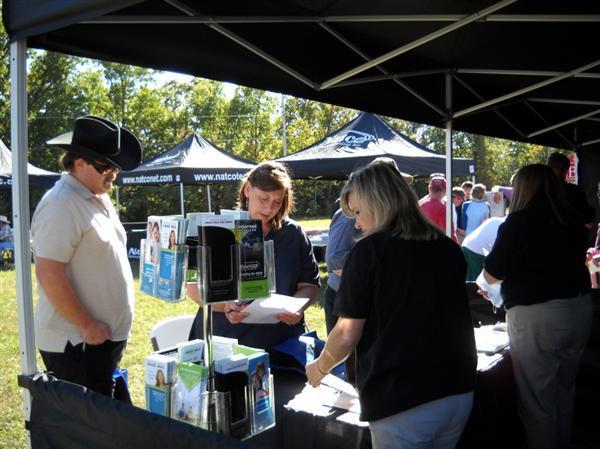 The NATCO staff will be participating in several upcoming community events. We invite you to stop by and visit with our team, tour our high-tech trailer and experience the latest in communications technology. We look forward to seeing you:
October 6th (Tuesday) - Fiber Town Community Party
Bull Shoals from 10am - 2pm
Hot Dogs, Chips & Drinks + Demonstrations
October 17th (Saturday) - 2015 Hillbilly Chili Cook-Off
Lakeview at Upper Bull Shoals-White River State Park from 10am - 4pm
---
NATCO Management Attends Conference on 'Rural Matters'
Steven G. Sanders Jr., General Manager at NATCO Communications, Inc., recently attended the Western Telecommunications Alliance (WTA) Spring Meeting in Palm Springs, California. WTA represents over 250 small rural local exchange providers in the 24 states west of the Mississippi River who provide high-quality voice, data, and video services in high cost rural areas.
The theme of the conference was "Why Rural Matters," and included sessions on the opportunities broadband internet access provides for rural and small town America. FCC Commissioner Michael O'Rielly spoke on the challenges and opportunities facing the rural industry and expressed concerns that existing regulations often unnecessarily siphon money away from broadband deployment and adoption efforts.
WTA advocates for the telecom interests of rural Americans before federal and state regulators and the United States Congress. WTA also provides a gathering place for member education and interchange of information with the Rural Utilities Service (RUS), a lending arm of the U.S. Department of Agriculture.
Sanders, who has served on the organization's Board of Directors since 2011, is committed to preserving affordable services for NATCO's rural service area, while providing the most advanced broadband and communications services possible to the citizens it serves.
NATCO Communications is a locally owned and operated independent communications company which has served customers throughout the Twin Lakes area, including Marion, Boone and Baxter Counties for 64 years. For further information, call toll free, 800-775-6682 or visit natconet.com. NATCO offices are at 301 E. Main St., Flippin, AR 72634.
---
Employment Opportunities
Customer Sales Representative
The ideal candidate will possess outstanding communication skills, including articulation, grammar and persuasion, customer service etiquette, and interpersonal skills. This position will generate revenues through telemarketing, cold calling, prospecting and networking; maintain sales goals and meet quotas. Must have proven outbound calling experience. This position will be discussing telephone, Internet, television, and more. Must be a positive, outgoing, results-oriented team player with the ability to handle stressful situations. Minimum base rate plus commission and work from home a possibility. Please send resumes to Human Resources, PO Box 1162, Mountain Home, AR 72654. Equal Opportunity Employer (EOE).

Application deadline: 09/30/15
---
Computer Technician
Must have intermediate/advanced understanding of personal computers and a basic/intermediate understanding/experience with IBM iSeries400 operation. Must have strong background in SQL report building in an iSeries 400 environment. Must have experience in Linux based mySQL database creation and reporting. Must have basic/intermediate understanding of wide area networks (WANS) and local area networks (LANS) along with the protocols that enable communication over both, including TCP/IP. Must have the ability to install, configure, maintain and troubleshoot personal computer software and hardware. Must have familiarity with telecommunications technologies including metro-Ethernet and T1/DS3/xDSL. Telecommunications industry background a plus. Please send resumes to: Human Resources, PO Box 1162, Mountain Home, AR 72654. An Equal Opportunity Employer (EOE).

Application deadline: 09/30/15
---
Computer Specialist
Must have intermediate/advanced understanding of personal computers and basic business software. Must have knowledge of wide area networks (WANS) and local area networks (LANS) including Ethernet-based transport. Experience in a Cisco and/or Linux environment a plus. Must have the ability to install, configure, maintain and troubleshoot computer software. Must be able to install, configure, maintain and troubleshoot Server installations in Linux and Windows environments. Must have a familiarity with telecommunications technologies such as T1/T3/xDSL/microwave and fiber optic access. Must be comfortable interacting with customers and fellow employees about computer and Internet repair techniques over the phone or in person. Please forward resumes to: Human Resources, PO Box 1162, Mountain Home, AR 72654. An Equal Opportunity Employer (EOE).

Application deadline: 09/30/15
---
Need Help? We're Here for You!
Whether you want to know more about a NATCO service, need an explanation about your bill, or need to report a service outage, we're here to help!
How to Reach Us...
Customer Service & Business Office
In Flippin: 453.8800
Outside Flippin: 1.800.775.6682
Office Hours: 8am - 5pm Monday thru Friday
Repair Service
In Flippin: 453.8821
Outside Flippin: 1.800.775.6682
Internet Technical Support
All Areas 24/7: 1.888.276.8059
Call NATCO Customer Service at 453.8800 or toll free 800.775.6682 for information on scheduling new service or repair on Saturday or after normal business hours.
---
We Want Your Suggestions
We'd like to hear your ideas for improving the services and products we provide. Are there ways we can better serve you? What can we do better? What new product or service would you like NATCO to offer?
Email your suggestions to: ideas@natconet.com.
Customers whose suggestions are implemented will receive a $25 credit on their NATCO account. We look forward to receiving your ideas!
---