February 2016 Enewsletter
---
Save a Bundle!
Bundling your Voice service with High-Speed Internet and Calling Features just makes sense - especially when you can get it all for LESS. NATCO's bundled packages provide costs savings over individual services.
With a money-saving NATCO bundle, you'll experience true High-Speed Internet (no sharing your speed), nationwide unlimited voice (local and long distance) and unlimited, convenient calling features, such as caller ID name and number, call waiting and call forwarding - ALL for one low monthly price.
Plus, with NATCO's bundled packages you'll receive one, convenient monthly bill and LOCAL service you can count on!
Check out these great, money-saving bundles:

To sign up and start saving a bundle, call 800.775.6682 today!
For more information on NATCO's Fiber Bundles for customers in areas with fiber access, please see Go to the Extreme article in this issue.
---
Introducing New XXL Cell Plan & 3 Months FREE

NATCO's 4G cellular plans just got better!
We're now offering an XXL Simple Share Plan that includes up to 18GB of data each month. That's a whole lot of Internet browsing, video streaming and downloading for only $120 per month. All NATCO Simple Shared Cell Plans include unlimited talk and text along with data. Choose the plan that's right for you (and your group to share).

For a limited time, sign up for a new line and receive 3 months FREE access* (phones, tablets or hot spots up to $20 value). Add a tablet or hot spot data access to cell plans for only $10 per month. Add an additional phone for only $20 per month.
For 4G iPhone users, switch now and receive FREE visual voice mail. Also, iPhone tethering is now available.
New subscribers can also save up to $250 on phone purchases. A variety of styles are in stock. Stop by NATCO's Flippin office and check out the latest phones and devices.
For more info on NATCO's 4G Cellular plans, call 800.775.6682. We'll help make switching easy!
*Certain requirements apply. Plan cost per month, plus $10 or $20/month/device on the Simple Shared Cell Plans. Not available with other promotions.
---
2015 NATCO Staff Service Awards
| | | |
| --- | --- | --- |
| Deanna Sullivan, 30 years | Steven G. Sanders, Jr., 25 years | David White, 15 years |
| Russ Woodman, 15 years | Douglas Smith, 15 years | Brandon Echols, 5 years |
In December, NATCO was pleased to honor several long-term employees for their dedicated years of service. NATCO celebrates our staff and their lasting commitment to our company and to the neighbors they serve each day. We believe this commitment exemplifies our culture as a locally-owned, independent company with strong community ties. We are proud to honor these NATCO staff members who have, over the course of their employment, embraced the industry's changing technology and responded to the needs of our customers for a combined total of more than 145 years of service.
Deanna Sullivan - 30 years
Steven G. Sanders, Jr. - 25 years
Denise Russell - 20 years
Jamie Ward - 15 years
David White - 15 years
Russ Woodman - 15 years
Lorene James - 15 years
Douglas Smith - 15 years
Brandon Echols - 5 years
Brian Grayson - 5 years
---
Go to the Extreme! 1 Gig Internet Now Available

For NATCO Fiber Town Customers
If you have a need for speed, NATCO has the solution. 1Gbps (Gig) Internet is now available in all areas of the NATCO service area with fiber access.*
Perfect for those using multiple devices to access the Internet (computers, laptops, tablets, smart phones, smart TVs, gaming consoles, and streaming media devices), NATCO's new Extreme 1 Gig Internet provides the fastest Internet in town.
Extreme 1 Gig Internet is available separately at $159.95 per month OR as part of our Extreme bundle with Television (100+ channels), Nationwide Unlimited Voice (local and long distance) and Unlimited Calling Features (caller ID name & number, call waiting, call forwarding & more!).
Additional Fiber bundles are available – choose the plan that best fits your needs.
To sign up for an affordable, Voice, Internet & TV fiber bundle, call 800.775.6682 today!
For more information on NATCO's Bundles for customers in areas without fiber access, please see the Save A Bundle article in this issue.
*Call for specific location-based availability & details. Some restrictions may apply.
---
Nationwide Unlimited Voice - $39.95
For all NATCO residential voice customers
With NATCO's Nationwide Unlimited Voice plan, you can talk as long as you want to anyone within the contiguous 48 states without worrying about your bill.
The Nationwide Unlimited Voice plan includes your reliable, local landline and unlimited, nationwide long-distance calls for only $39.95 per month.
It's an affordable way to keep in touch!
Sign up today and start talking. Call 800.775.6682 to speak with a NATCO Customer Service Representative.
---
---
FREE Upgrades for NATCO Television Customers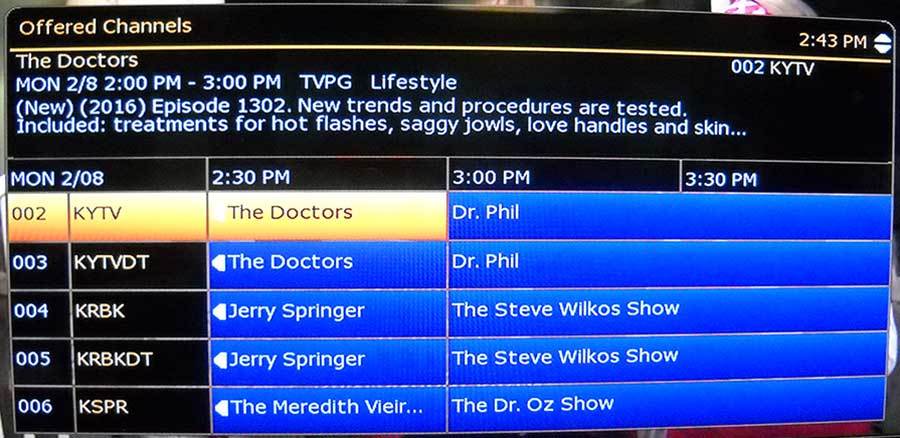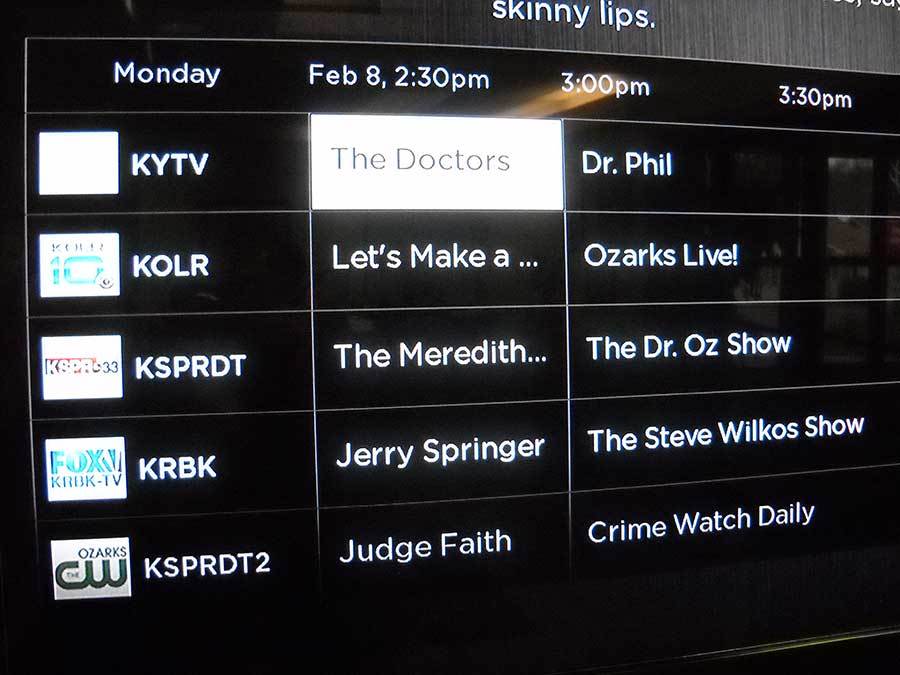 Recognizing the need for an improved television program guide, NATCO recently introduced a FREE upgrade for our Locals Package television subscribers who watch via a Roku device. The enhanced program guide offers more detailed information about the television programs along with an expanded schedule view.
Customers subscribing to our 100+ Channel television package will receive their FREE program guide upgrade soon.
A new, improved way to add more DVR functionality is also scheduled to be deployed in February as another FREE upgrade for Internet-TV customers.
NATCO will continue to enhance our television service as new features become available.
To learn more about NATCO's affordable television service, call 800.775.6682 or stop by our office in Flippin for a demonstration.
---
Marion County Youth Leadership Tech Day Held at NATCO
Fifteen ninth-grade students from Marion County schools recently had the opportunity to learn about the telecommunications industry at NATCO Communications in Flippin. The event, held December 9th, was "Tech Day" for the students on this year's South Shore - Marion County Youth Leadership Team. The students and advisors attending were from Yellville-Summit, Flippin and Bruno-Pyatt.
Members of the team were welcomed with breakfast and an introduction to the company, then divided into groups to learn about business functions by departments. Each department had interactive activities for students to participate in which ranged from Engineering, where students learned about and experimented drawing with CAD tools, to the IT Department, where students learned a bit about technology innovations and trouble-shooting. Other displays included NATCO representatives working with students on activities in Accounting, Customer Service and Network Services. In addition, students took a tour of the Flippin office and Central Office, where the students' questions were answered by employees.
Students also participated in a contest which involved creating group skits based on Internet safety including topics of cyberbullying and online predators. The groups performed their skits, and the members of winning team received prizes. NATCO provided lunch catered from El Chico Cafe of Mountain Home.
NATCO's nonprofit arm, South Shore Foundation is a sponsor of the Marion County Youth Leadership Development Program, which is designed to identify and strengthen leadership skills in youth and to build their self-confidence as they learn to serve their schools and communities. It was founded on the premise that the youth of today will serve as the leaders of tomorrow. To ensure the future growth of Marion County, youth must be prepared to assume leadership positions.
Any eighth-grade student desiring to be on next school year's South Shore Marion County Youth Leadership Team may obtain an application from their school counselor, the Marion County Extension Office (870) 449-6349, or online at the South Shore Foundation website at www.southshore.com/mcyjoin.htm.
---
Online Holiday Shopping: Safety First!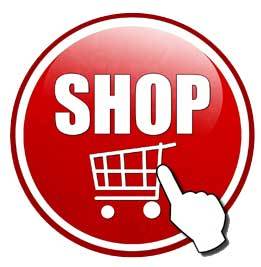 Although online shopping provides a quick and convenient way to get your holiday shopping accomplished, always exercise caution when providing credit card information and making purchases online.
Microsoft® offers these rules for safer financial transactions online:
Six rules for safer financial transactions online
Whether you go online to check your bank balance, pay a bill, give money, shop, or sell something, these six rules can help you keep the risks to a minimum.
Defend your computer against Internet threats
Help protect your online transactions by using firewall, antivirus, and antispyware software. Encrypt your wireless connection at home. Keep all software (including your web browser) current with automatic updates. For more information, see How to boost your malware defense and protect your PC.


Create strong passwords
Strong passwords are easy for you to remember but difficult for others to guess. They are at least 14 characters long (the longer the password, the better) and include numbers, symbols, and upper- and lower-case letters.



Keep passwords and PINs (personal identification numbers) secret. Do not share them in email, instant messages, or over the phone.


Use unique passwords for bank accounts and other important financial information. Avoid using the same password everywhere. If someone steals that password, all the information that the password protects is at risk.



Find the web address yourself
Links in email messages, text messages, instant messages, and pop-up ads can take you to websites that look legitimate but are not. To visit websites, type the address yourself or use your own bookmark or favorite.


Look for signs that your information is safe
Before you enter sensitive data on a webpage, ensure that:



The site uses encryption, a security measure that helps protect your data as it traverses the Internet. Signs of encryption include a web address with https ("s" stands for secure) and a closed padlock beside it. (The lock might also be in the lower right corner of the window.)



You are at the correct website—for example, at your bank's site, not a fake one. If you are using Internet Explorer, one sign of trustworthiness is a green address bar like the one above.


The site contains signs that it is legitimate. For example, look for third-party seals of approval. Companies can put these seals on their sites if they abide by a set of rigorous standards such as how personal information can be used. Two seals to look for:

Better Business Bureau Online (BBB Online)

TRUSTe

If you see the seals, click them to make sure they link to the organization that created them. Some unscrupulous merchants will put these logos on their websites without permission.



Save financial transactions for your home computer
Never pay bills, bank, shop, or do other financial business on a public or shared computer or on devices such as laptops or mobile phones that are on public wireless networks. The security is unreliable.


Use common sense
To help protect yourself against fraud, watch out for scams. For example, be wary of deals that sound too good to be true, alerts from your "bank" that your account will be closed unless you take some immediate action, notices that you have won a lottery, or a refusal to meet in person for a local transaction. Typically this kind of message, whether sent by computer or phone, is designed to entice you to visit a phony website where criminals collect your financial data. (If you doubt the message's authenticity, call the company.) Learn to spot phishing scams and defend against them.
What to do if there are problems:
Online shopping problem? First, ask the seller to make things right. If that doesn't work, contact the web service for help.
Report scams, fraud, identity theft, or other abuse:
To the web service, local police, and the bank, credit card company, or other financial institution.
For identity theft in the United States, to the U.S. Federal Trade Commission (FTC) or call toll free:(877) 438-4338.
For scams or fraud in the United States, to the FTC or call toll free: (877) 382-4357.
Information courtesy of Microsoft
https://www.microsoft.com/en-us/safety/online-privacy/
---
NATCO Pick-It Bowl Challenge Winners
Congratulations to our winners! Stay tuned for NCAA Pick-It Challenge!
Heather Loftis - Television
Brad Maynard - Kindle Fire
Gamaliel Alarcon - $25 Visa Gift Card
---
Experiencing Internet Speed Issues? Managing Your Use May Help
You come home from work, check Instagram on your cell phone, turn on your tablet, and start a movie on Netflix while the kids are playing X-box in the bedroom.
All of these devices are simultaneously utilizing your connection and sharing your bandwidth to access the Internet. The more devices in use, the more fragmented your bandwidth becomes, slowing your speed on each device.
To help improve your Internet speed, limit the number of devices simultaneously accessing the Internet. Also, check to ensure your devices are not set to automatically back up to the cloud or perform system updates during peak usage times (first thing in the morning or immediately after work).
During back-ups and system updates, large amounts of bandwidth can be consumed. Devices and applications with auto-backup could be major culprits in bogging down your Internet speed. Examples include:
iPhone / iPad auto backup of photos, videos
Android auto backup of photos and videos
Kindle auto backup of photos and videos
Mobile Apps that auto backup
Computer auto backup programs like Carbonite, DropBox and Google Drive to name a few
Uploading excessive and large videos to YouTube has caused issues for some
When trying to troubleshoot and find which device is causing your problem, it is best to use a systematic approach.
We recommend turning devices off one-at-a-time to systematically determine which device is consuming the largest amount of bandwidth. So, if you have an iPhone, iPad, Android Phone, Roku, PC, and Laptop, we recommend you start by turning one device off and then testing for five minutes.
If that doesn't solve the problem, then move onto the next phone, tablet, or computer until you find the one consuming your bandwidth. When you determine which device is consuming your bandwidth, you can then start looking for what process or application is causing the problem.
Sometimes you can adjust the time the auto-backups occur or turn auto-backups off and select a manual backup option. After you verify which device is causing the issue and turn it off, you should be able to turn on your other devices with improved speed.
You can also have the option to upgrade your Internet package to increase the bandwidth shared by your devices.
NATCO will be happy to review your options with you to determine the Internet package that will best fit your bandwidth needs and budget. Call us at 800.775.6682 for details.
---
We're Hiring! Join Our Team
NATCO currently has the following career opportunities available:
Customer Sales Representative
The ideal candidate will possess outstanding communication skills, including articulation, grammar and persuasion, customer service etiquette, and interpersonal skills. This position will generate revenues through telemarketing, cold calling, prospecting and networking; maintain sales goals and meet quotas. Must have proven outbound calling experience. This position will be discussing telephone, Internet, television, and more. Must be a positive, outgoing, results-oriented team player with the ability to handle stressful situations. Minimum base rate plus commission and work from home a possibility. Please send resumes to Human Resources, PO Box 1162, Mountain Home, AR 72654. An Equal Opportunity Employer (EOE).
Computer Technician
Must have intermediate/advanced understanding of personal computers and a basic/ intermediate understanding/experience with IBM iSeries400 operation. Must have strong background in SQL report building in an iSeries 400 environment. Must have experience in Linux based mySQL database creation and reporting. Must have basic/intermediate understanding of wide area networks (WANS) and local area networks (LANS) along with the protocols that enable communication over both, including TCP/IP. Must have the ability to install, configure, maintain and troubleshoot personal computer software and hardware. Must have familiarity with telecommunications technologies including metro-Ethernet and T1/DS3/xDSL. Telecommunications industry background a plus. Please send resumes to: Human Resources, PO Box 1162, Mountain Home, AR 72654. An Equal Opportunity Employer (EOE).
Computer Specialist
Must have intermediate/advanced understanding of personal computers and basic business software. Must have knowledge of wide area networks (WANS) and local area networks (LANS) including Ethernet-based transport. Experience in a Cisco and/or Linux environment a plus. Must have the ability to install, configure, maintain and troubleshoot computer software. Must be able to install, configure, maintain and troubleshoot Server installations in Linux and Windows environments. Must have a familiarity with telecommunications technologies such as T1/T3/xDSL/microwave and fiber optic access. Must be comfortable interacting with customers and fellow employees about computer and Internet repair techniques over the phone or in person. Please forward resumes to Human Resources, PO Box 1162, Mountain Home, AR 72654. An Equal Opportunity Employer (EOE).
---
We Want to Hear From YOU!
We'd like to hear your ideas for improving the services and products we provide. Are there ways we can better serve you? What can we do better? What new product or service would you like NATCO to offer?
Email your suggestions to ideas@natconet.com.
Customers whose suggestions are implemented will receive a $25 credit on their NATCO account. We look forward to receiving your ideas!
---
Need Help? We're Here for You!
Whether you want to know more about a NATCO service, need an explanation about your bill, or need to report a service outage, we're here to help!
How to Reach Us...
Customer Service & Business Office
In Flippin: 453-8800
Outside Flippin: 1-800-775-6682
Office Hours: 8am - 5pm Monday - Friday
Repair Service
In Flippin: 453-8821
Outside Flippin: 1-800-775-6682
Internet Technical Support
All Areas 24/7: 1-888-276-8059
Call NATCO Customer Service at 453-8800 or toll free 800-775-6682 for information on scheduling new service or repair on Saturday or after normal business hours.
---