Television Streaming
Television Streaming
Create your own television solution by streaming with NATCO's High-Speed Internet and state-of-the-art fiber optic network.
Streaming television delivers content over your Internet connection instead of cable or satellite. That means, as long as you have access to High-Speed Internet, you have access to your favorite movies, TV programs, sports, and more!
Streaming provides access to channels and programming to meet your lifestyle and interests with crystal-clear picture and sound quality. There are many ways to enjoy your favorite programming over the Internet for free or with a subscription.
For example, you can stream local channels from Springfield, MO using YouTubeTV.
Watch Live Local Channels (based on 72634 zip code):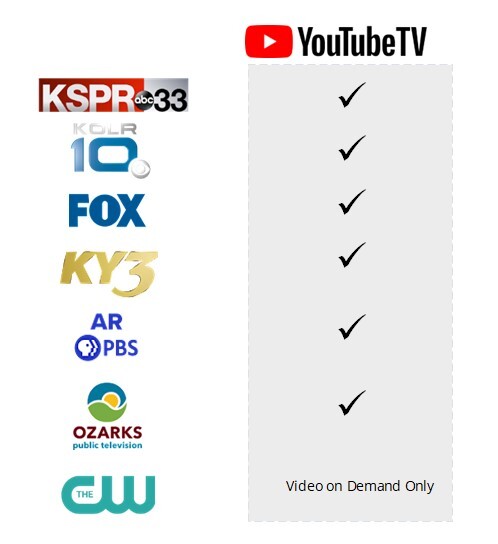 Watch Little Rock Stations-Video on Demand:

Internet-ready televisions, streaming media devices (e.g., Roku, Apple TV, Chromecast/Google TV, Amazon Fire TV Stick), and gaming consoles (i.e., Xbox), now allow direct access to content from subscription services such as YouTube TV, Netflix, Sling, Peacock, Amazon Prime Video, Disney+, ESPN+, Hulu, Hulu + Live TV, HBO MAX, Paramount+, Bally Sports, Curiosity Stream, AT&T TV, FuboTV, PLEX, Kanopy, Tubi, NBA League Pass / NBA TV, NFL Game Pass, NFL Sunday Ticket, and NHL.TV (ESPN+) and MLB.TV.
Some streaming devices even work with Google Assistant and Siri, so you can use your smartphone or tablet to manage your streaming content.