April 2016 Enewsletter
---
Region's First 1 Gig Internet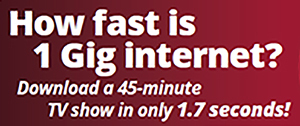 Internet, Television & Voice
NATCO Communications is the region's first provider of 1 Gig fiber technology to homes and businesses.
With NATCO's 1 Gig Fiber-To-The-Home service (FTTH), you'll experience:
the region's fastest Internet with some of the highest speeds available anywhere in the U.S.
capacity to stream television, movies, videos, games & more simultaneously without buffering or loss of quality
reliable, secure buried lines which are less susceptible to outages
flexibility to grow as new services are introduced
NATCO's 1 Gig FTTH service is available as part of our Extreme Voice, Internet & TV bundle or as a stand-alone service and is currently available in all areas with fiber service. Call 800.775.6682 for details and availability at your specific location.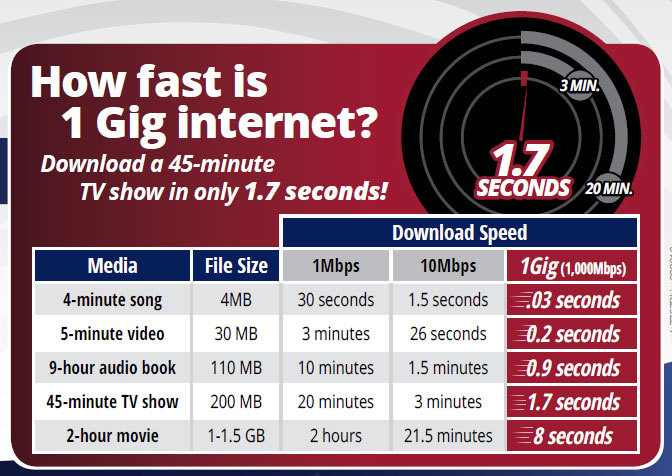 All download speeds are estimates. Speeds vary depending on your specific location and equipment.
---
Ozark Regional Directory Ad Sales Underway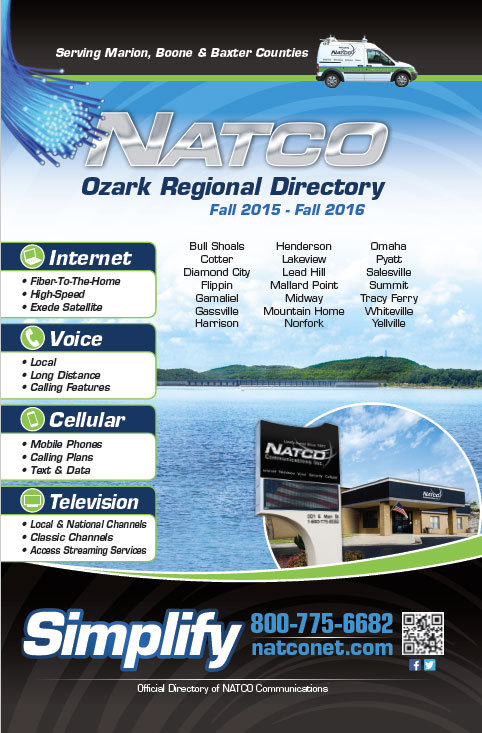 In today's marketplace, smart business owners are searching for the best ways to reach potential customers. Maximize your exposure with an ad in the NATCO Communications' Ozark Regional Directory Yellow Pages. Advertising in the NATCO Ozark Regional Directory is an effective way for your business to get the attention of consumers throughout Marion, Boone and Baxter Counties.
Don't miss out on the opportunity for your business to be featured in the directory that reaches every household and business in the NATCO service area and beyond.
The NATCO Ozark Regional Directory is the official telephone book of NATCO Communications and includes listings for exchanges in the NATCO service area as well as Mountain Home and Harrison.
Advertising opportunities in the NATCO Ozark Regional Directory are open to all businesses (current NATCO customers as well as non-customers) inside and outside the NATCO service area.
The NATCO Ozark Regional Directory is distributed each fall throughout Marion, Boone and Baxter Counties. The directory's convenient size and comprehensive listings (three counties) make the Ozark Regional Directory THE choice for area businesses and residents.
Get More Results with NATCO Voice & Internet Service
Voice service from NATCO is a great way to ensure you can connect with your customers. NATCO's High-Speed Fiber Internet provides fast, reliable service for all your business communications needs.
If you'd like to include your business in the 2016-2017 Ozark Regional Directory, or to sign up for NATCO voice or Internet service, please contact NATCO Customer Service at 800.775.6682.
Businesses using cellular phones, please call for details.
---
Speaker Appoints Sanders to State Broadband Council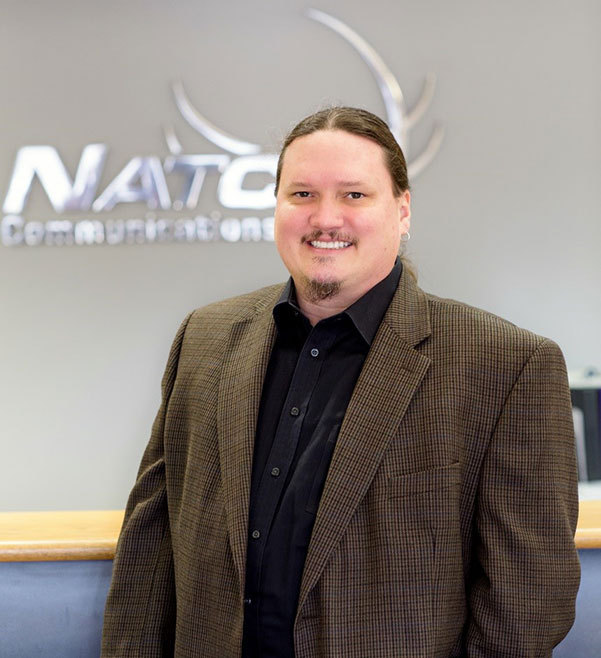 Steven Sanders, Jr., President and General Manager of NATCO Communications, Inc., headquartered in Flippin, Arkansas was recently appointed to the Arkansas Broadband Council by Speaker of the House Jeremy Gillam.
Steven Sanders, Jr., President and General Manager of NATCO Communications, Inc. in Flippin, was recently appointed to the Arkansas Broadband Council by Speaker of the Arkansas House of Representatives Jeremy Gillam.
Established in 2007, the 13-member council advises the Governor and the General Assembly on policies related to establishing affordable broadband Internet service for Arkansas homes and businesses.
Establishing broadband service to homes and businesses within the State is the priority of the Council. The Council is instrumental in planning and coordinating the State's initiatives for broadband service to stimulate economic growth, enhance educational opportunities and improve communications and safety for Arkansas residents. In addition, the Council monitors the broadband development efforts of other states and countries.
The term "broadband" describes an Internet signal of high bandwidth or capacity. Many types of high-speed Internet connections may be labeled as broadband including fiber optic (Fiber-To-The-Home/FTTH), DSL (Digital Subscriber Line), satellite and wireless.
"Today's world is Internet driven. In order for Arkansas to compete economically and educationally, residents must have access to high-speed broadband Internet service. Meeting the challenges of delivering broadband service to customers in the rural Ozark Mountains has provided knowledge and experience I will draw upon to help guide the State in connecting other rural areas. I am honored to be appointed by Speaker Gillam to the Broadband Council," stated Steven Sanders, Jr.
As President and General Manager of NATCO Communications, Inc., Sanders has installed broadband Internet service to the majority of customers within the company's 658-square mile rural service area, including Fiber-To-The-Home (FTTH) 1Gig/Gbps service.
In addition to his appointment as a member of the Arkansas Broadband Council, Steven Sanders currently serves as a Director of the Western Telecommunications Alliance. Since 1999, Sanders has served as a Director of the Arkansas Telecommunications Association (ATA), and currently serves as Chairman of the ATA's Small Company Concerns Committee. Sanders also currently serves as a member of the Arkansas Distance Learning Coordinating Council.
NATCO Communications, Inc., is an independent, locally-owned and operated, communications company established in 1951. Headquartered in Flippin, Arkansas at 301 East Main Street, NATCO provides advanced communications services (Voice, Internet, Cellular, and Television) to homes and business in north-central Arkansas including portions of Marion, Boone, and Baxter Counties.
For more information on NATCO Communications, Inc., phone toll-free 800.775.6682.
For more information on Steven Sanders, Jr. visit www.stevensanders.com.
---
NATCO Communications Managers Attend Engineering Conference
Travis Sullivan, Plant Manager and Steve Smith, Business Manager for NATCO Communications, Inc., recently attended the Palmetto Engineering and Consulting (PEC) Showcase in Little Rock. The showcase event featured the latest in telecommunications technology, support services and product demonstrations. In addition to the showcase exhibits, participants attend breakout sessions on such topics as the future of broadband access networks, regulatory issues and global technology for local markets.
Smith, stated that the showcase was a great venue to visit with industry vendors and learn new information. "This event provides an excellent opportunity for people in the telecommunications industry to get together and exchange ideas," he said. "We are always looking for opportunities to connect with industry leaders to further expand the state of the art services we can offer our customers here at home."
---
NATCO Communications Supports Local Organizations
| | |
| --- | --- |
| Danielle Sanders, NATCO Communications, presents check to Baxter Regional Hospital Foundation | Danielle Sanders, NATCO Communications and Niki De Soto, Executive Director of Serenity, Inc. |
NATCO Communications, Inc., recently presented a donation of $500 to Baxter Regional Hospital Foundation for their Lend-A-Hand initiative. NATCO held a Facebook campaign to promote the foundation and pledged to donate a dollar for every 'like' received. The Lend-A-Hand campaign supports Baxter Regional Medical Center's four community health education and support houses - Mruk Family Education Center on Aging, Peitz Cancer Support House, Reppell Diabetes Learning Center and Schliemann Center for Women's Health Education.
"Healthcare is vital to all of the local communities we serve," said Danielle Sanders, Senior Executive Assistant with NATCO Communications in Flippin. "NATCO is proud to support Baxter Regional Hospital Foundation's efforts to educate and provide critical health services to the people of Baxter, Marion and surrounding counties."
Danielle Sanders, Senior Executive Assistant at NATCO Communications, Inc., recently presented a check for $500 to Niki de Soto, Executive Director at Serenity, Inc. NATCO, which supports organizations in the communities it serves both directly and through its charitable arm, South Shore Foundation, encouraged fans on its Facebook page to like and share Serenity's page in order to spread awareness about the organization and its services during domestic violence awareness month.
Serenity, Inc. was founded in 1988 in Mountain Home and provides emergency shelter services and advocacy toward independent living to women and children dealing with domestic violence in Baxter and Marion counties. "NATCO understands and supports the important work that Serenity does in our local communities. We hope this donation will make a positive impact through the resources Serenity provides," said Sanders.
---
Leslie Rouse Joins NATCO Communications Staff
Leslie Rouse
Leslie Rouse has joined the staff of NATCO Communications as a Customer Sales Representative. Her primary responsibilities include creating and sustaining customer relations and providing solutions tailored to meet each customer's needs with unparalleled customer service.
Rouse, a longtime resident of the area, received her Associate Degree in Business Management from Arkansas State University in Mountain Home. She lives in Flippin.
---
---
Customer Accessibility: Making Communication Easy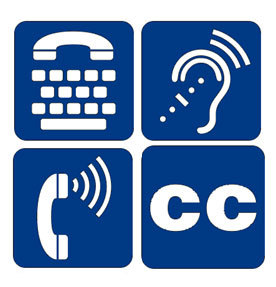 NATCO Communications wants to help make communicating easy for everyone. If you or a member of your household has a hearing, vision, movement, manipulative, speech, cognitive, or similar disability, we invite you to provide information and suggestions on how NATCO can improve our services to accommodate your special needs.
Your input is important to us. Please print out and complete the downloadable PDF form.
The information you provide allows NATCO to better address the needs of our customers with disabilities and improve the telecommunications services we offer.
Your information can be submitted three ways:
Mail your completed form to P.O. Box 209, Flippin, AR 72634.
Deliver your completed form to NATCO's main office at 301 East Main Street, Flippin, AR.
Provide your answers via phone by calling 800.775.6682.
For more information regarding customer accessibility, please visit http://natconet.com/accessibility.
We look forward to receiving your suggestions. Thank you!
---
Dial 811 BEFORE You Dig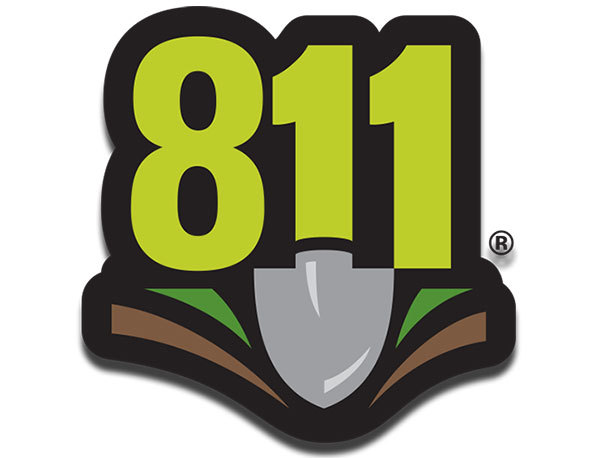 With spring gardening and home improvement projects in full swing, please remember to take precautions to avoid damaging buried utility lines.
Before digging, drilling or excavating, pick up the phone and dial Arkansas One Call at 1-800-482-8998 or 811 and speak with a customer service representative.
Arkansas One Call (AOC) is the state-wide call before you dig center.
Arkansas One Call is available around the clock (24/7) to help ensure public safety and damage prevention.
You can also enter your locate request online at www.arkonecall.com. After receiving your locate request, AOC will dispatch someone to your site to mark all buried utilities.
Remember, YOU are responsible for damages incurred if you fail to contact Arkansas One Call before you dig or if you disregard designated marked areas.
---
NATCO Communications Career Opportunities
NATCO Communications currently has the following career opportunities available:
Customer Sales Representative
The ideal candidate will possess outstanding communication skills, including articulation, grammar and persuasion, customer service etiquette, and interpersonal skills. This position will generate revenues through telemarketing, cold calling, prospecting and networking; maintain sales goals and meet quotas. Must have proven outbound calling experience. This position will be discussing telephone, Internet, television, and more. Must be a positive, outgoing, results-oriented team player with the ability to handle stressful situations. Minimum base rate plus commission and work from home a possibility. Please send resumes to Human Resources, PO Box 1162, Mountain Home, AR 72654. An Equal Opportunity Employer (EOE).
Computer Technician
Must have intermediate/advanced understanding of personal computers and a basic/ intermediate understanding/experience with IBM iSeries400 operation. Must have strong background in SQL report building in an iSeries 400 environment. Must have experience in Linux based mySQL database creation and reporting. Must have basic/intermediate understanding of wide area networks (WANS) and local area networks (LANS) along with the protocols that enable communication over both, including TCP/IP. Must have the ability to install, configure, maintain and troubleshoot personal computer software and hardware. Must have familiarity with telecommunications technologies including metro-Ethernet and T1/DS3/xDSL. Telecommunications industry background a plus. Please send resumes to: Human Resources, PO Box 1162, Mountain Home, AR 72654. An Equal Opportunity Employer (EOE).
---
We Want Your Suggestions
We'd like to hear your ideas for improving the services and products we provide. Are there ways we can better serve you? What can we do better? What new product or service would you like NATCO Communications to offer?
Email your suggestions to ideas@natconet.com.
Customers whose suggestions are implemented will receive a $25 credit on their NATCO account. We look forward to receiving your ideas!
---
Need Help? We're Here for You!
Whether you want to know more about a NATCO Communications service, need an explanation about your bill, or need to report a service outage, we're here to help!
How to Reach Us...
Customer Service & Business Office
In Flippin: 453.8800
Outside Flippin: 1.800.775.6682
Office Hours: 8am - 5pm Monday through Friday
Repair Service
In Flippin: 453.8821
Outside Flippin: 1.800.775.6682
Internet Technical Support
All Areas 24/7: 1.888.276.8059
Call NATCO Customer Service at 453.8800 or toll free 800.775.6682 for information on scheduling new service or repair on Saturday or after normal business hours.
---
Let's Get Social: Connect with Us on Facebook & Twitter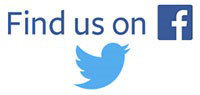 By connecting with us on Social Media, you'll be among the first to learn about new services and special offers from NATCO Communications as well as the latest tech news and company announcements.
Check us out on Facebook: facebook.com/NATCONet and Twitter: twitter.com/NATCOnet.
---