06/30/2017
NATCO Assists with Flippin Ball Park Lighting
FLIPPIN, Ark – NATCO recently assisted the City of Flippin by drilling holes for the installation of poles at the Hickey Park baseball and softball complex to provide lighting for the playing fields.
"NATCO is pleased to be able to work in cooperation with many other businesses and individuals to assist the City with this project. Our crews were excited to help, as many of our staff have family members who play on these ball fields," stated Tim McEuen, NATCO's Director of Customer Care.
The new park lights provide greater flexibility for game scheduling and provide opportunities for the City to host additional games and tournaments. As a result, the increase in visitors will positively impact the City's economy through purchases at Flippin businesses and restaurants.
"We believe in helping where we can to improve the community. This worthwhile project will have a lasting impact on the City of Flippin. NATCO is glad to be a part of it," stated McEuen.
NATCO is an independent, locally-owned and operated, broadband communications company established in 1951. Headquartered at 301 East Main Street in Flippin, NATCO provides advanced communications services (Internet, Television, Voice and Cellular) to homes and business throughout north-central Arkansas including portions of Marion, Boone, and Baxter Counties.
For more information on NATCO or career opportunities available at NATCO, phone toll-free (800) 775-6682 or visit www.natconet.com.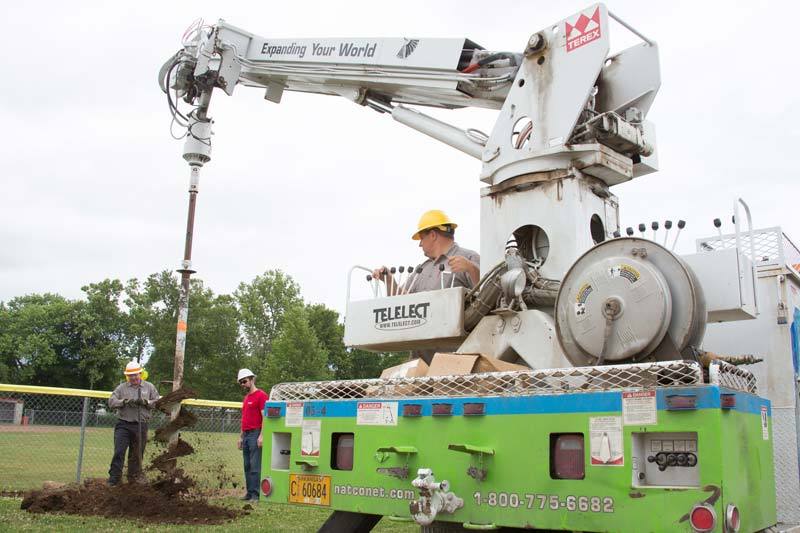 NATCO crew assists the City of Flippin with drilling holes for poles which will hold new lights at the Hickey Park ball fields. Pictured from NATCO (left to right): Brad Wiseman, Cable Maintenance Technician; David Carson, Outside Plant Supervisor; and Thomas Richey, Lineman.