09/26/2019
26th Annual NATCO Directory Recycling Project is Underway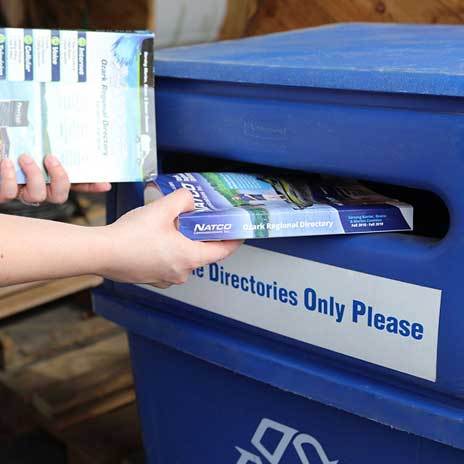 NATCO staff members are coordinating efforts to recycle outdated Ozark Regional Directories throughout the company's service area. NATCO encourages customers and non-customers in Baxter, Boone, and Marion counties to drop off their previous year's phone book at one of the convenient recycling bin locations in their community. NATCO accepts old phone directories for recycling regardless of telephone company or directory publisher.
2019 Recycling Bin Locations
Flippin: NATCO, City Hall, Arvest
Omaha: City Hall
Bull Shoals: City Hall, Arvest Bank
Lead Hill: Arvest Bank
Diamond City: City Hall
Yellville: Arvest Bank
Mountain Home: Arvest Main and Walmart Branches
The public is asked to respect the property of the participating businesses and offices and place the old phone directories only in the bins marked with "Recycle" symbol and NATCO company logo.
For more information, please contact NATCO Customer Care in Flippin at 453.8800 or toll free 800.775.6682.