12/20/2021
New Facilities Planner Joins NATCO's Engineering Team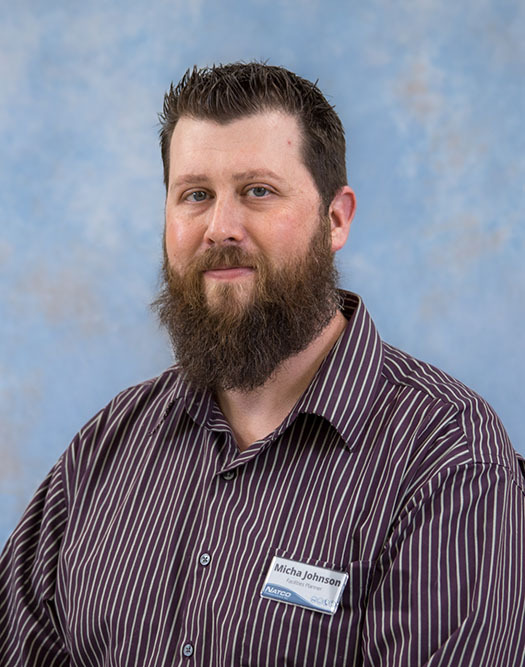 NATCO is announcing that Micha Johnson has joined our Engineering team as Facilities Planner.
In his new position, Johnson will be planning and coordinating all outside plant construction activity within NATCO's service area, including aerial and buried cable route extensions, upgrades, and replacement activities. He will also ensure NATCO's compliance with federal RUS specifications for work performed by outside contractors and engineers.
Johnson, formerly of Kansas City, MO, brings years of telecommunications experience to his new role. He spent five years working with AT&T as a Premise Technician, a Senior Training Manager, and an In-Home Expert where he worked with customers and trained employees on installing, maintaining, and troubleshooting copper, fiber, and satellite connections. Johnson also worked with Ervin Cable Construction as an OSP Designer II in a Lead Engineer position. In that position, he designed CAD prints and splicing designs for clients and the internal construction group. He designed cellular and ODN (10 Gig internet) networks, as well as the backhauls and fronthauls that connected office equipment to cell phone and Internet sites. While with Ervin Cable Construction, he designed networks for DAS (distributed antenna systems) that fed stadiums, hospitals, and large-scale offices and buildings.
Johnson's expertise in engineering and CAD design lends valuable experience to NATCO's team, while his premise experience will be a bridge between our I&R technicians, Engineers, and customers. He has taken training for his new position at NATCO in stride, saying, "My daily work responsibilities are a mix of Engineering, Accounting, and Assignment tasks. Due to the breadth of duties required to be successful in this role, I have had to maintain a student mentality." Monica Principato, Resident Engineer, notes, "Micha's previous experiences as an OSP design engineer and premise technician will help NATCO better serve our internal and external customers."
Johnson holds a Bachelor of Science in Psychology from Pittsburg State University and a Master of Business Administration (MBA) from Baker University. He and his family including his wife, their three children, and their two dogs came to Mountain Home from Kansas City. "We have quickly acclimated to being outside of a large metro area. It feels like home to me." Johnson and his family are ready to enjoy the benefits of life in the Ozarks. "I am looking forward to weekend days fishing and checking out trails with my family and 2 dogs, floating on the river, and enjoying nature."