09/22/2023
The Power of Community in the Ozark Regional Directory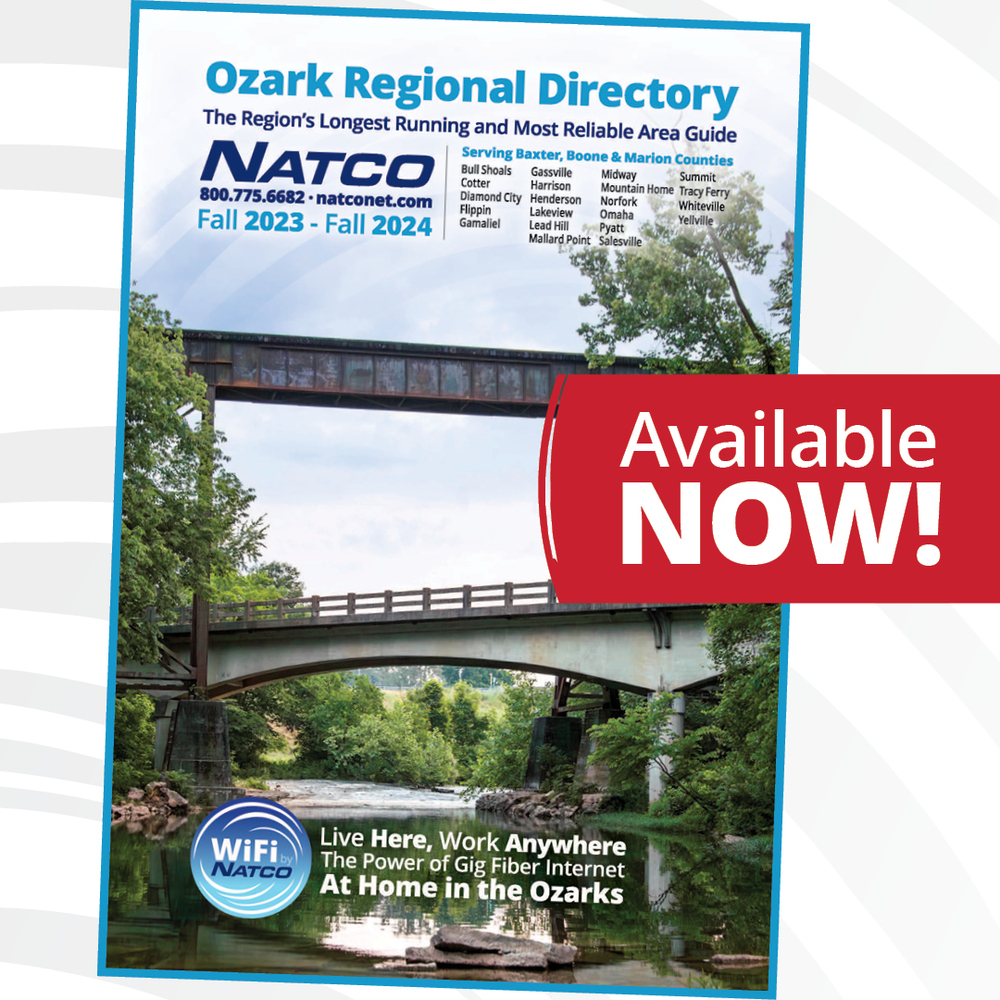 NATCO is thrilled to announce the 2023-2024 publication of the Ozark Regional Directory (ORD). With a remarkable legacy of over four decades and an inclusive listing of 2,500 local businesses and organizations, the directory proudly holds the title of the longest-running and most reliable area guide in the heart of north-central Arkansas. The circulation footprint spans Marion, Boone, and Baxter counties, with over 20,000 copies distributed annually. The latest edition of the ORD is already making its way to mailboxes and official distribution points.
Over the course of 40 years of production, the Ozark Regional Directory has evolved into more than a phone book. NATCO President and General Manager, Steven Sanders Jr., explains, "In our close-knit, rural community, 'local' is a way of life. Here, we understand the power of community. Our economic choices are intertwined with a genuine desire to support our neighbors. The directory isn't just a book; it's a tool for local businesses and testament to NATCO's commitment to making our community thrive and prosper."
The Ozark Regional Directory stands as a reliable beacon of stability in our community and in this ever-evolving digital landscape. What truly sets it apart is its user-friendly accessibility. Businesses don't need to possess an encyclopedic knowledge of SEO strategies, web development, or digital advertising. The ORD gives them customer visibility while saving them the time and headache of trying to get in the Google search results. The ORD's focus remains firmly on connecting organizations with the community, simplifying the process for both business owners and their local clientele.
The ORD is particularly popular with tourists. Between the Arkansas Visitor's Center in Harrison and the Gaston's Visitor's Center in Bull Shoals, we distribute nearly 200 books each month to people exploring our beautiful region. And that's not all; area banks, chambers of commerce, realtors, and various other locations partner with NATCO to host distribution stands.
New directories can be picked up at one of the following locations:
Flippin: NATCO Office, Arvest, Anstaff Bank, Ozark Realty
Bull Shoals: Gaston's Visitor Center, Chamber of Commerce at the Bull Shoals Library
Lead Hill: City Hall
Diamond City: Community Center
Omaha: City Hall
Yellville: Davenport Realty, Arvest
Mountain Home: Century 21 LeMac, Gilbert Realty, Mountain Home Chamber of Commerce
Harrison: Chamber of Commerce, Visitor's Center
The Ozark Regional Directory can be accessed online at ozarkregionaldirectory.com.
In effort to promote sustainability, we will once again be collecting dated phone books and directories at select locations across the community. Blue recycling bins with NATCO's branding will be placed at the following locations during the month of October:
Bull Shoals: City Hall
Diamond City: Community Center
Flippin: NATCO Office, Arvest, City Hall
Lead Hill: Dollar General
Omaha: City Hall
Yellville: Arvest
Mountain Home: Arvest Main Branch, Arvest East Branch
To request a copy of the 2023-2024 Ozark Regional Directory, call NATCO Customer Care at 870.453.8800 or 800.775.6682. If your business would like to host an Ozark Regional Directory distribution stand, please contact Kayla Stafford at marketing@natconet.com.