Repair & Troubleshooting
Repair & Troubleshooting
NATCO repair technicians are dispatched daily from 8:00am – 4:30pm. In case of an emergency, we have an on-call repair technician available 24 hours a day. If a repair call is received after hours, we will dispatch a repair technician the next working day.
For repair service, please call: 453-8821 (in Flippin) or 1-800-775-6682 (outside of Flippin).
Our Repair Service Center can test your line remotely. However, in some cases, we won't be able to diagnose the problem without sending a technician to your home or office. There may be a charge for this repair visit. The trouble shooting tips listed below may help you isolate the problem yourself and save you time and money.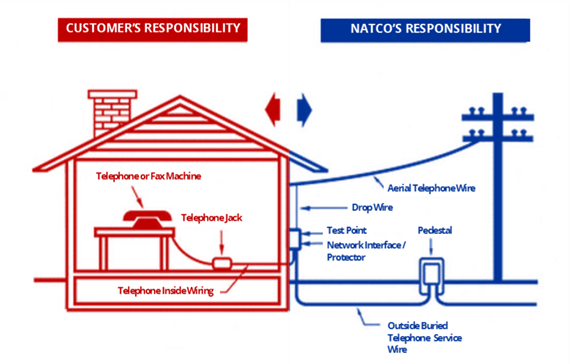 Troubleshooting Tests
Check to see if all of your telephones are hung up.


Perform a visual inspection of all exposed wiring and connections for damage or loose connections.


When there is more than one outlet (jack), check each instrument at each outlet to determine if proper operation can be obtained from any outlet. If proper connection is obtained from at least one outlet, the trouble has been isolated to an instrument or wiring within the house.


In order to isolate jack or house wiring problems, simply move a working telephone to each outlet in the house to determine which location is causing the trouble.


A test point device (Network Interface) may be installed where your service wire comes into your premises. This test point is there to assist in isolating your wiring trouble. Call our repair number for additional information.
NATCO cannot repair customer-owned telephone equipment.
NATCO can repair the outside lines and switching equipment we use to provide you with service at no charge (unless damage is due to negligence on your part).
If the problem is determined to be in your wiring that runs through the home, you have three options:
You can call NATCO. If you subscribe to our optional TechSafe support plans and your wiring meets the requirement for standardized wiring, we will repair your inside wiring at no charge. If you don't subscribe, we will be happy to repair the problem; however, there will be a charge for labor and materials.


You are welcome to hire an independent contractor or home repair expert to repair your jack or inside wiring.


You can repair the problem yourself.
NATCO's TechSafe support plans cover all your inside wiring. The charges are billed at a low monthly fee on your telephone bill.