October 2018 Enewsletter
---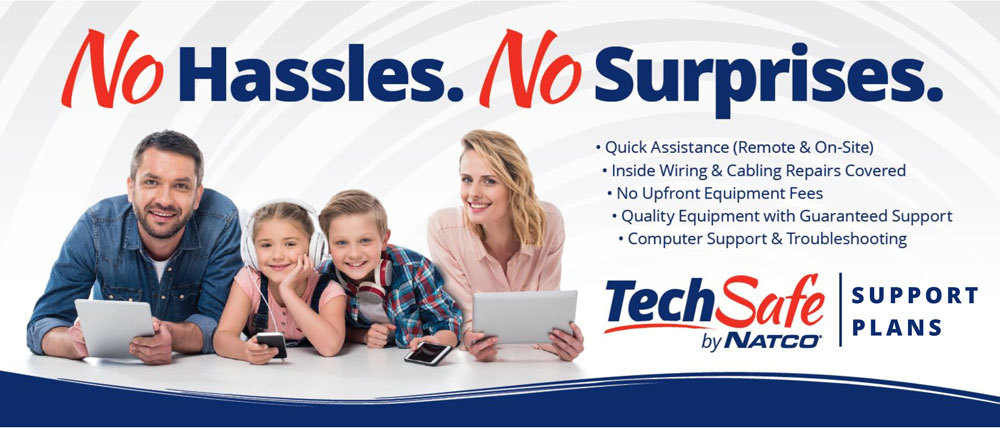 Call today 800.775.6682 or email to sign up & SAVE!
---
NATCO's TechSafe
Support

Plans

No Hassles. No Surprises.

With NATCO's TechSafe Support Plan, you'll never have to worry with inside wiring or cabling repairs. We'll take care of it - NO trip charges or hourly labor charges.
Quick Assistance (Remote & On-Site)
Inside Wiring & Cabling Repairs Covered
No Upfront Equipment Fees
Quality Equipment with Guaranteed Support
Computer Support & Troubleshooting
Silver Plan: $7.95/mo.
Covers Inside Wiring/Cabling Repairs
Includes Trip Charge & Hourly Labor Charges
Gold Plan: $19.95/mo.
Covers Inside Wiring/Cabling Repairs
Modem or Router Monthly Lease
Includes Trip Charge & Hourly Labor Charges
Platinum $29.95/mo.
Covers Inside Wiring/Cabling Repairs
Modem or Router Monthly Lease
Three Remote Support Sessions for Desktop or Laptop Computer Per Month (Configurations & Troubleshooting)
Includes Trip Charge & Hourly Labor Charges
NATCO's TechSafe Plans are available for residential customers. Trip charge ($30)
and labor charges ($70 per hour) will apply if customer does not have a maintenance & support plan in place or, if customer-owned equipment is affecting the quality of service.
Please contact NATCO's Customer Care Team for complete details at 800.775.6682 or visit natconet.com/techsafe. Ask us about a custom solution for your business.
---
New Ozark Regional Directories are
Here!
Plan NOW to include your business in 2019
The new 2018-2019 Ozark Regional Directories have arrived.
It's never too early to plan for your business to be included in next year's edition.
Give Tim McEuen a call at 800.775.6682, to make sure your business is featured in our convenient, regional directory.
---
Creative
Arts

Contest

Showcasing Our Talented Local Students

Students throughout the NATCO service area are currently participating in NATCO's annual Creative Arts Contest.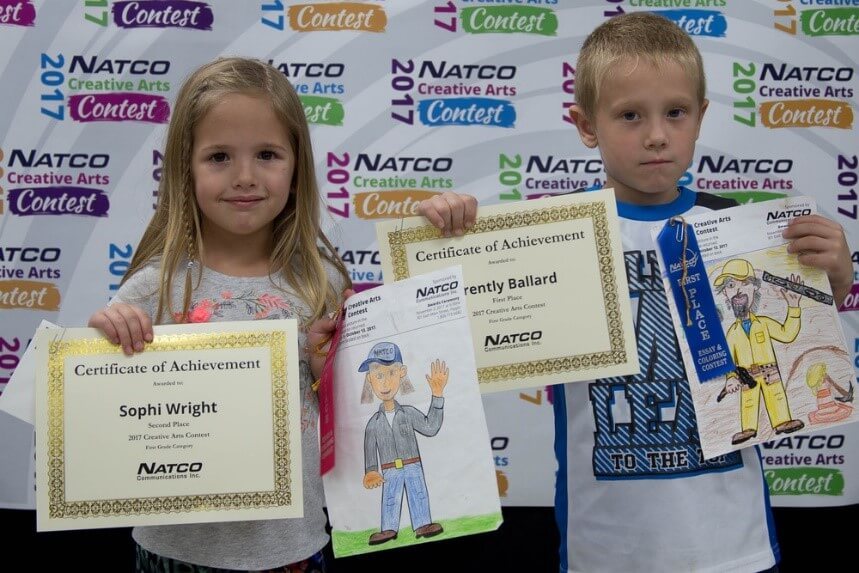 Winning entries from the 2017 Creative Arts Contest.
Each year, students from kindergarten through eighth grade in Flippin, Yellville-Summit, Bruno-Pyatt, Lead Hill, Omaha, and Bergman are invited to participate in the contest through their schools. Students submit drawings or essays they've written related to technology and communications.
Ask your child about their entry!
We look forward to receiving some outstanding submissions again this year.
Winners will receive cash prizes, certificates and ribbons and will be treated to snacks at the upcoming awards ceremony to be held in November.
Winning entries will be posted on our website, Facebook page and featured in an upcoming issue of the e-news.
---
Unlimited Plans, Local
Support
NATCO Cellular – Talk, Text & Data on 4G LTE Network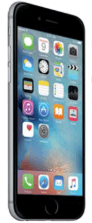 It's easy to add NATCO cellular to your current services. We'll take all the hassle out of switching providers and give you great local service.
Give us a call to compare your current cell plan and rates. NATCO offers a wide range of options for customers with different usage habits and budgets, all powered by one of the nation's largest networks.
NATCO also has a great selection of cellular phones - from basic models to smart phones. Financing available.
Stop by our office in Flippin to try them out and find the device and plan that's right for you!
---
Get the
Most

from Your Internet Plan

NATCO can help!

Order pizza online; check your email; watch a movie on Netflix; play Fortnite on Xbox; listen to music on Spotify...

What do all of these tasks have in common? They all use the internet.

If your internet connection seems a little sluggish at times, consider:

1) How many devices are using your connection simultaneously?
2) Are cloud backups or automatic software updates happening during your peak usage time?

The amount of bandwidth required for your family's routine tasks to all happen at the same time without experiencing buffering, lagging or your connection timing out may surprise you.

If your family routinely experiences issues when using your internet connection, NATCO can help you perform a quick audit to determine how your bandwidth is utilized and ways to get the most from your internet plan. Call Tim McEuen to schedule your audit today at 870.453.9237. We can help!
---
Fiber Installation Going
Strong
Expanded Services Now Available for Customers
Many more customers in Flippin will soon have access to FTTH (Fiber-To-The-Home) service with the completion of another phase of fiber construction. FTTH delivers speeds of up to 1Gig and allows customers to experience high-def video and the fastest Internet speeds in the region.
Fiber construction is now also underway in the Stonegate subdivision in Omaha. We're proud to deliver these advanced services to our customers and look forward to extending fiber to many more areas in the coming months.
NATCO can even perform a usage audit to determine how fiber service can benefit your family.
If you'd like more information on fiber services and availability at your location, please contact our Customer Care Team at 800.775.6682 or email us with your address.
---
Career
Opportunities
Join Our Team!
We are glad to answer your questions about jobs, training, education, and work at NATCO. Contact our Human Resources Department, 1-800-775-6682, and ask how you might join NATCO's team. Check out opportunities online at https://www.natconet.com/career-opportunities and email your resume to resumes@natconet.com.
Installation and Repair Technician
Job Status: Full-Time
Job Summary: Telecommunications Installation and Repair Technician needed in Flippin, AR. Must be able to work with the public and maintain the confidentiality and accuracy of records. The ideal candidate will have I&R experience, including experience with ADSL, Ethernet Services, Fiber / Fiber Splicing and other digital services. This job will also require installing and repairing outside plant facilities, both buried and aerial. Strong computer/internet skills a plus. Please forward resumes to Human Resources, PO Box 209, Flippin, AR 72634. An Equal Opportunity Employer (EOE).
Staff Accountant
Job Status: Full-Time
Job Summary: Seeking a highly motivated individual for accounting department. The qualified applicant will possess excellent PC skills and spreadsheet abilities. Must be a self-starter as well as a team player. BS/BA in Accounting and a CPA required! Please forward resumes to Human Resources, PO Box 209, Flippin, AR 72634. An Equal Opportunity Employer (EOE).
Marketing Coordinator
Job Status - Full-Time
Job Summary: Qualified candidates must have excellent written and verbal communications skills, good presentation skills and strong organizational skills. A proficiency in MS Office applications and graphic design experience preferred. Must be able to meet multiple deadlines. Seeking highly motivated individual and a creative self-starter that is team and goal oriented. Experience in the telecommunications industry would be a plus. A Bachelor's Degree in Marketing preferred. Excellent benefits and pay. Please forward resumes to Human Resources, PO Box 209, Flippin AR 72634. An Equal Opportunity Employer (EOE).
---
Connect with NATCO on
Social

Media

Facebook, Twitter, Instagram & YouTube
---
We're Here for
You!
Whether you want to know more about a NATCO service, need an explanation about your bill, or need to report a service outage, we're here to help!
How to Reach Us...
Customer Service & Business Office
In Flippin: 453.8800
Outside Flippin: 1.800.775.6682
Office Hours: 8am - 5pm Monday through Friday
Email: service@natconet.com
SmartHub 24/7 Customer Portal: https://natco.smarthub.coop/
Repair Service
In Flippin: 453.8821
Outside Flippin: 1.800.775.6682
Internet Technical Support
All Areas 24/7: 1.888.276.8059
Call NATCO Customer Service at 453.8800 or toll free 800.775.6682 for information on scheduling new service or repair on Saturday or after normal business hours.
---