Company History
Company History
In 1951, the Sanders family vision of providing telephone service to rural Marion County began when Ray and Millie Sanders, along with associate Artel Chamberlain, purchased the Flippin Telephone Company. Northern Arkansas Telephone Company (NATCO) began with 42 customers and the driving motto "Watch Us Grow."
Much has changed in the last 60+ years. From copper lines strung between fence posts and treetops, to buried fiber cable delivering advanced broadband services, NATCO has grown to meet the communications needs of the communities it serves.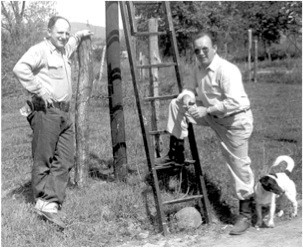 NATCO founders Artel Chamberlain and Ray Sanders installing copper cable lines in the early 1950s.
Today, NATCO provides advanced communications services (voice, Internet, and television) to businesses and residents in a 658 square mile service area that encompasses portions of Marion and Boone Counties in rural, north-central Arkansas. NATCO remains a locally-owned and operated business with the third generation of the Sanders family working to ensure the most advanced technology and best service is provided to customers.
"It is an honor to continue the work started by my grandfather over 60 years ago. Although there have been tremendous changes in the telecommunications industry over the last six decades, NATCO's commitment to the area we serve remains constant," stated Steven Sanders, Jr., NATCO President.
For more details on NATCO's 60-year history in the telecommunications industry, please visit www.NATCOhistory.com.